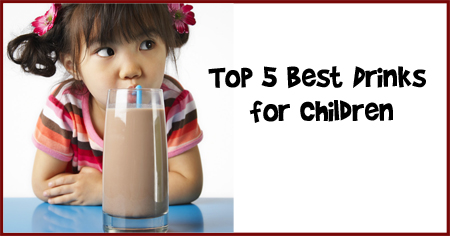 Encouraging children to drink delicious yet healthy drinks is one of the ways to include various essential nutrients in their diet. Here is list of top 5 best drinks for children.

There are many kinds of drinks which may be tempting your kids but not all of them offer the same nutritional value or health benefits. Children have very active yet vulnerable metabolic rates and this is why anything which they consume has a direct and speedy impact on their physiology. As a parent you have to be watchful enough to ensure that your kids consume nothing but the healthiest options in drinks. Here are the top 5
best drinks for children
as recommended by dieticians and nutritionists.
1. Homemade Juices
It is possible to serve your kid healthy versions of juices and smoothies to and this will be considerably healthier than the pre-packaged preservative based juices available in the market. Juice has to be diluted with water to make up a low sugar drink that would not drastically increase the blood sugar level of your child. Whole fruit can be pureed at home and as the fibre is retained the resultant drink will be quite healthy. Blending in some
strawberries
with
lemon
and some honey is a good recipe for a perfect delicious drink. Another good option is to crush in a cantaloupe with some sweet lime.
2. Whole Pasteurized Milk
According to the evidence from laboratories say that children who consume skimmed milk gain more weight in the long run than kids who just stick to wholesome non processed
milk
. Apparently whole milk has a lot of added nutrients which is not found in skimmed milk. It is perfectly desirable to feed your child a tall glass of whole milk every day as long as you can ensure that it is pasteurized. Just do not stir in sugar as this will hike up the calories. Add some honey and cinnamon to give the milk some zing. Some cocoa powder and cardamom is also a desirable additive that can make milk more appealing to kids.
3. Organic Smoothies
Generally consuming smoothies daily is not recommended as they tend to be quite heavy in calories. Store brought smoothies are a strict "no-no" as they have a lot of sweetening agents and fatty toppings. However, if you have a mixer at home then you can try making your own brand of organic smoothies. Try mixing in avocadoes with some peeled and defrosted blueberries and a ripe banana; the result is a creamy smooth blend that is great to taste and easy on the stomach. This whole concoction is high in healthy fat and will fill your kid up while delivering essential nutrients and phyto-vitamins.
4. Coconut Water
Tender coconut water has very less calorific value and it can boost the general health of your child by its added micronutrients. Mature
coconut water
has a lot of calories because of its high sugar content so should be avoided. However, water of the tender green coconut is fresh, mildly flavoured and healthy. You can also add tender coconut water to raspberry or strawberry juice to make up a tasty healthy mock tail.
5. Drinks Made Using Curd
Drinks like buttermilk and lassi which are made using curd are extremely nutritious for children. Buttermilk helps to boost the digestive system of children as well as it has many medicinal properties. It is a perfect summer drink which can help to deal with and prevent dehydration. Lassi is also one of the yummy Indian drinks which most of the kids love. It can be made even tastier by adding different fruits and flavours to it. Fruits like mangoes, strawberries etc; can be added to it. Rose flavour can also be added to lassi for making it more delicious. At the same time these drinks made using curd can provide many essential nutrients like calcium, potassium, Vitamin B2, Vitamin B12 and magnesium to children.
It is a must to give only homemade and natural drinks to kids. Giving aerated or packaged drinks can be harmful for their health. It is also mandatory to check that children do not drink cold-drinks which are sold on the road-side. They must be educated about the harmful effects of drinking such drinks.
What kinds of drinks are good for the health of children? Which drinks should be avoided by children? What are the harmful effects of drinking aerated and packaged drinks? Discuss here.