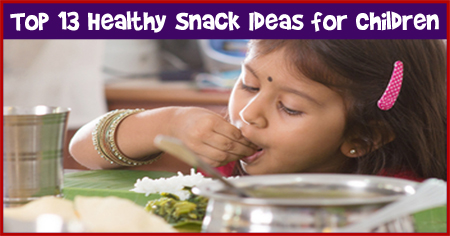 Is your child a fussy eater? Try these top 13 healthy snack ideas to boost your child's interest in food.



Avoid junk foods and make healthy snacks accessible for children. Make snack time fun-filled by making homemade snacks for kid. It is better to go for healthy calorie recipes which will keep the children satisfied and healthy. Smaller stomachs will not take much food at a time, but often eating between small intervals happens. In such case, snacks play a major role and it is parent's duty to prepare delicious and healthy stuffs.
Let us take a look at the top 13 healthy
snack ideas for children
.
1. Apple with Almond Butter

Slice the apple and apply almond butter over it. Arrange the sliced apples like a tower in a plate. This kind of an appearance will make the children to admire and they would love to eat.
2. Milkshake

Prepare a
milkshake
with frozen bananas, peanut butter and milk. You can whole milk for the kids and low-fat milk for elders.
3. Carrot and Apples

Cut apples and carrots in matchstick shape and apply a mixture of half lime juice and a pinch of salt over it. Good to have some pieces of cucumber as well.
4. Apples with Oats

Combine the sliced apples with cinnamon, oats, and a tiny amount of brown sugar. Use the oven to bake those stuffs and bake until they become crisp. Serve with a spoonful of yogurt on its top.
5. Salsa with Black Beans

Prepare a mixture of lumpy salsa with few black beans. Apply a slight cheese on top of the mixture and serve with parched corn chips.
6. Homemade Smoothies

You can prepare smoothies with the help of fresh
fruits
and milk at home which will be liked by every kid. Smoothies are a healthy source of nutrients as they are made using fruits and milk. You can also make use of yogurt for making
smoothies
.
7. Cereals - Source of Fiber

Fiber filled food items are always stomach filling and healthy, especially for children. Mix the cereals with milk with a little sugar and serve with banana toppings. Fibre also helps in digestion and lowers the cholesterol.
8. Whole-Wheat Pizzas

Children love pizzas. A quick and healthy snack at home would be toasting up an English muffin (a whole-wheat variety) topping it with tomato sauce and low-fat cheese. Even the tomato sauce can be made at home with tomato paste, oregano and garlic. Allow the kids to select the veggies for pizza toppings.
9. Whole-Grain Crackers

Make four pieces of banana, dip in plain yogurt and roll them in wrinkled whole-grain Graham crackers. Freeze the prepared stuff and serve later for a cold snack.
10. Boiled Corns

It is very easy to prepare salt corn, Masala corn and cheese corn. Boil the corn and keep it aside. For salt flavor, just sprinkle few pinches of salt over the corn and serve. To make it more delicious, sprinkle a little Mirchi Masala or pepper powder. Cheese corn is another option loved by all kids.
11. Cutlets

There are varieties of cutlets that can be made at home and they stand out to be very healthy too. Different vegetables can be used for making cutlets which can be serve with ketchup or chutney.

12. Sandwiches

Sandwich is an easy and quick snack to be prepared at home. The items to be stuffed in
sandwich
can range from potato, paneer, vegetables, eggs, cheese, sprouts to even chocolates to make delicious chocolate sandwiches.
13. Soups

Variety of soups becomes the best snack for children. Sweet corn soup, tomato soup, chickpea soup, vegetable barley soup, and Moong Dal soup are some yummy and tasteful soups that children love. Boil the required items in a pressure cooker and keep aside. Mash the boiled items and add pepper powder, tiny pieces of ginger, cumin, and salt. If required you can add a spoonful of ghee to enhance the flavour.
Train the children to get used to these healthy snacks. Make them aware about the negative impacts of eating junk food and let them proceed with homemade snacks.
What kinds of snacks are healthy for children? How to deal with fussy eating habits in children? Which types of snacks should not be given to children? Discuss here.