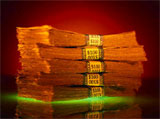 When we are asked this question, most of us are tempted to answer 'Yes!' although we know that people who have millions of dollars are not necessarily happier than us. Few of us have not wondered how life would be if we were 'crorepatis'. We'd live in a bigger house, have a nicer car, and we'd be happy. Then. What about now John Lennon once said 'Life is what happens while you're busy making other plans.' You're running around trying to earn more money, waiting for that deal to get made, that contract to come through and before you know it, you've lived your life without enjoying or appreciating it.
Money can help you afford nicer things, but it cannot make you happier. True, abject poverty can be depressing. You would be hard pressed to find happiness if you are struggling to make ends meet, don't have enough money for food or shelter, cannot keep warm during the winter or cool during the summer. But if you are earning enough, have a comfortable lifestyle, have a family that loves you, are healthy and intelligent, count yourself lucky.
Want proof Think back to a time when you got something you wanted. Perhaps it was admission to a good college or a great job. You were on a high when you got that appointment letter, and that high lasted for weeks, maybe months. Then you started coming back to earth, and a couple of years later you are once again sitting with the rest of the office gang grumbling about the bad work conditions, your boss and nasty co-workers.
It's the same with money. A sudden windfall will give you a high, but once your feet find the ground, you're back to square one. If you get rich by commuting long hours to your office, working late into the night and neglect your friends and partner, you will find that you are not that happy as a person who may make less money than you do, but who spends time with his family, goes for more vacations with them and doesn't mind kicking up his legs and taking life easy every now and then.
Happiness is all a question of attitude. Study has shown that married people tend to be happier than single ones, though the singles seem to be out having all the fun. Fun is short-lived, while the security of a happy marriage is very fulfilling. This does not apply if you are unhappily married though. Singles are far happier than those trapped in unhappy marriages.
Surprisingly, studies have shown that couples with children are no happier than couples that choose not to have children.
So how happy are you really While we are always told to count are blessings, we don't really do so, and even if we do, we don't put any value or price on our blessings. Here's how you can calculate how rich you really are, in terms of happiness.
Start with your basic annual salary and then add your earnings as shown below:
Being female, 10k - Yes, studies have shown that women on the whole tend to be happier than men, perhaps because they have less of a desire to excel monetarily.
Aged 49 to 70 years, 10k - Older people tend to be more content than youngsters.
Happily married, 70k
Remarried after a divorce, 50k - Add this to the 70k

Work part-time, 30k - You have more time for yourself and for things that really matter.
Love your job, 30k - You spend 2/3rds of your day, and your life, at your job. If you love it, you will be happier than if you dislike it and are working only for the money.
Small commute, 10k
And now, deduct the following from your salary
Commute of an hour or more by car - 30k, by train - 70k
Serious illness - 200k
Recently lost loved one - 170k
Unhappily married - 150k

So remember, real joy is a choice. You can choose to be happy, even without that huge bank balance.