Message Boards
Interactive Features
QUENCH THE THIRST OF FRIZZY HAIR - by Diana Dudas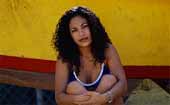 It seems like such an enigma. Of the hundred or so emails I receive daily, the same question pops up endlessly. Why is my hair so, FRIZZY and dry, coarse or brittle? I intend to try and solve this mystery. And my first clue has to do with moisture deficiency!


Oil and Water...

90% of us suffer with dry brittle or frizzy hair because our hair is deficient of (moisture) WATER! There is a certain preconceived notion that has been passed on from generation to generation. That is the idea that our hair is dry, because we are lacking in natural oils. We are told that if we nurture our hair by brushing vigorously 100 times a day, or if we nurture our hair with hot oil treatments and cholesterols. If we do all of these things, then we are sure to be blessed with beautiful, shiny and healthy locks. This might be the case, if you have hair that is not chemically treated. But once you have impaled your tresses with harsh chemicals such as bleaches and alkaline permanents, hot oil treatments may not be the best bet for you.


Naturally Curly Hair...

Those of you who have curly hair, have these curls, because of a curvature of the hair follicles .A normal hair follicle under a microscope would be seen as perfectly straight. However yours would have a definite bend in it. This causes the hair to curl. Where the hair curves it compels the cuticle (the outer layer of the hair) to lift.


The cuticle...

Under a microscope, a cuticle is similar in appearance to shingles on a roof. When the hair is in good condition, and is straight and has good porosity the tiles or cuticle layers are tight together and in perfect in shape, giving the hair a smooth appearance. This makes light reflect off the hair enhancing shine! When hair is in bad conditioner, is curly or has poor porosity, the cuticle layers are lifted and sometimes damaged and broken. This makes the hair feel coarse and brittle. It also causes the hair to absorb light, giving the appearance of dull lifeless hair. To sum up this scenario. Because curly haired cuticle layer is permanently lifted, it feels, coarse, and brittle and has no brilliance. Hence the dull, lifeless look. It also means that our hair has poor porosity.


Porosity...

Is the ability for hair to be able to absorb and retain moisture. The best way for me to explain this is to would be for you to imagine a sponge. First of all imagine a brand new sponge. It will have tiny holes in it, and when you immerse it in water, it will soak up a large quantity, and be able to hold that liquid for a long period of time. This is because it has good porosity. Now imagine an old sponge. Its holes have become damaged and distorted. It might even be torn in some areas. When you immerse this sponge in the same amount of liquid, it will absorb far less and will certainly not be able to retain the moisture so readily. It is the same with hair. Hair that has poor porosity will not be able to absorb or retain moisture as well as hair that has good porosity, making hair dry.


Optimum condition...

For hair to be in tiptop conditioner is has to have a moisture (water) content of at least 8%, and the right balance of protein and natural oil. Most of us produce enough natural oil (sebum), to keep our hair healthy, but lack the moisture. After having a chemical service your moisture level will drop as low as 2%, causing drying of the hair, followed by split ends. The same will happen with constant use of blow-dryers and hot styling tools, such as curling or flat irons. If the moisture level is not restored to its optimum 8% your hair will ultimately become brittle and possibly break.


What to do..

You need to give your hair lots of TLC, with shampoos that are designed to restore your hair's moisture level to its optimum 8%. Along with intense conditioners that will help to repair damaged cuticles, improve porosity, elasticity and general health and appearance of your hair. Avoid hairsprays, mousses and gels that have a high alcohol or butane content.

Those of you with naturally curly, wavy or frizzy hair, those of you who use hot styling tools or who chemically treat your hair, will need to give your hair extra nurturing by supplying it with the necessary nutrition and moisture that it needs. Sun worshippers need to make sure that your hair care products have sunscreen properties to protect your hair from the damaging affects of the UV rays.


Summary...

Our hair needs MOISTURE, MOISTURE, and MOISTURE! Who needs to add moisture more than most? People with naturally curly hair, chemically treated, hot styling tool users or people who live in hot sunny and arid climates.



Please feel free to email me with any hair care questions that you may have at DUDASDIANA@AOL.COM

Copyright 2002

Author is an expert with more than 28 years experience in the beauty industry. She has answered over 2000 questions for allexperts.com and has had her work published in many well-respected beauty magazines both online and off.
Feedback on article
Name: Ravani
City: Seattle
Comments: What is moisture and my hair is curly and frizzy can you please tell me which Shampoo and conditioner will help me. Thanks.
---
Name: Swati
City: Bangalore, India
Comments: I have long silky straight beautiful glossy hair, but lately I seem to have developed some white hair. I have moved to this city lately and the water here is very very hard. Could this be the reason. What should I do to prevent myself from getting more white hairs. Age-28, Diet balanced, Weight -proportionate. No genetic or other abnormality.
---
Name: tomoko1268
City: tokyo,japan
Comments: My hair is very dry.I had tried to reduce its.I had straightened my hair before but is still looked dry.Originally my hair is very curly and frizzy.Is that possible becoz of this?In ur opinion,how can make my hair look shine and beautiful?
---
Name: Alisha
City: S'pore
Comments: what are other causes of white hair besides being hereditary?Can certain chemicals or chemically treated hair like rebonding & perming cause white hair later on?
---
Name: shobhana
City: Nagpur
Comments: I used to have healthy hair, but from last 2 to 3 years, I had developed white hair. I think, this problem had occured has we have moved to this city only 3 years back. Now I want to get back my original color of my hair without using any products. My diet is good. I am a healthy person without any medical problems. Could you please tell me how can I get back my original hair color.
---
Name: hetal
City: houston USA
Comments: thats great info regarding really curly dry hair .can you please tell me what shampoos or moisturizes..i should use for my hair. thanks
---
Name: NO FRIZZ
City: LA, California
Comments: hey guys...try using frizz-ease hair serum by john frieda...i have long thick hair n b4 i used frizz-ease my hair wuz lyk a bush!!...frizz-ease is a clear liquid tht cumz in a bottle with an eyedropper...after u shampoo, condition, put frizz-ease on ur hair...ur hair should be slightly damp...n voila!!...glossy lustrous locks can b urs!!
---
Name: Nicola
City: london
Comments: Everytime i use frizz ease (the kind in the spray bottle) my hair sort of smells a bit like its been burnt! has anyone else ever had this?
---
Name: NO FRIZZ
City: LA, California
Comments: Nico la, I think that you may be using the wrong frizz-ease, the one that comes with the eye-dropper does not smell...try that one (it's by john frieda
---
Name: l
City: uae
Comments: dear diana , we stay in gulf and as u would know there's lot of chlorine in water so whenever we wash hair our hairfall starts so thinning of hair has started can u let me how do i go about it and i really had a lenthy hair now it has reduced and it looks really dead bejaan...please advice what good formula can be used.tell more for normal hair and to increase the length and thickness of the hair
---
Name: Natalia
City: coconut creek
Comments: Hey i like my hair because its stright,but sometimes i wish i could have curls/wavy hair but my hair is so stright and think that its hard to scrunch it or curl it so can u please help me and tell me what i could do?¿
---
Name: bt
City: Auck
Comments: My hair is frizzy and goes hay wire when i blow dry it. Do you no wot 2 do? in a bowl mix 2 drops of lavender with 2 table spoons of Apricot oil. Add one egg. apply it all over your hair. It feels a bit yuck, but the result is great! wrap your hair in plastic glad wrap (cling film) and leave on for 20 minutes for dry hair or over 30 minutes for bad hair/ Leave it on for how ever you want!! it still works! Rinse it ALL of and then wash and condition hair. Your hair will be soft, shiney and glamourous!!
---
Name: sunayna
City: india
Comments: hi,i wash my hair daily & apply shampoo & conditioner daily.is daily shampooing may harm my hair?
---
Name: vijay
City: bangalore
Comments: hai sister i am vijay haircareadvicer and messur For Density:- 1.Add Castor oil with coconut oil(100+100ml).apply with gentle mage. 2.Take White yoke from Egg.Apply ur Scalp leave 30min before wash ur hair. 3.Curd is a moisturieser. Apply ur Scalp leave 30min before wash ur hair. For Dandruff:- 1.Squeeze lemon and take lemon juice. Apply ur Scalp leave 30min before wash ur hair. 2.Take White Vinegar 50ml. Apply ur Scalp leave 30min before wash ur hair. For Lice:- 1.Spread Tulsi leaves on ur pillow before go to bed.keep head on Tulsi leaves. For YoungGreyHair:- 1. Add Castor oil with coconut oil(100+100ml).apply with gentle mage. 2. Eat iron content food or syrup. To do this:- 1.Apply Natural Henna by paste format.leave 30min before wash ur hair. 2.Fold ur hair end with hair band. Dont use pins and clips for folding. 3.Eat atleast one egg or protein content food daily. Dont do this:- 1.Dont dry ur hair by hair dryer oftenly. 2.Dont Brush ur hair with moisture. 3.Dont cut ur hair oftenly or improperly. Because Straight cut makes Density, V cut makes long, Oval makes normal level General Advice:- Maintain long hair. Because the body will take protein from hair at the time of Sick or illness. because the hair contains protein in the form of karotine.this is the reason for mothers hair falling after birth of child. So plz maintain atleast Hair length between Shoulder length to Waist length(50-60cm my mail id:mpvijay at indiainfo dot com
---
Name: Jasmine
City: memphis.
Comments: Hi, I too have dry,rough, curly hair. It's short too. I would like to grow it long, soft and silky. The worst part is I can't even tie it into pony tail because of its dry nature. I want to leave it open on western dresses, which I could'nt. suggest me a good hair moisturiser so that I can atleast tie it into a pony tail. Hope someone would really give me a good suggestion which works miracles on my hair.
---
Name: jayanthi
City: tirupur
Comments: Hai vijay, thank u for ur tips.i tried & it really helps.
---
Name: taanya
City: chandigarh
Comments: hi. my hair are too brittle, dull, i have hair fall prob, i have dandruff... everything.. my hair r now like a broom. but this was not the case with me before i got my hair coloured. i never faced hair fall or dandruff or dull hair.. plz help me out. m losing confidence in myself day by day looking at my hair.saloons here in my city are offering 3 kinds of packages(1) rebonding(Loreal) (2) hair spa 5 to 6 sittings for dandruff control usin Loreal products. (3)hair spa 3 sittings dandruff control using Loreal products plus 2 sittings of H2O oil massage.or for that matter, H2O is a comapny that has products for skin and gair care that r made from the herbs that lie deep under d sea. m really sacred to go 4 either of these options having treated my hair with chemicals once and seeing the awfull results(i.e when i got my hair coloured). will it do if i dnt go 4 either of these. also tell me d products which i should use(we hve Loreal,Schwarzkopf) ruling here.H2O doesnt offer much 4 hair care as far as my knowledge goes. its just the oils 4 hair that they provide. plz help me. m in dire need 4 a good and sincere sugesstion.
---
Name: Rebecca tarantino
City: clayton ca 94517
Comments: I have semipermanent colored hair i do it every 6 weeks my hair is almost down to my waist is very healthy but i have new groth of hair comming out frizzy i don't know what to do. I don't iron it at all. It has a soft wave i used all kind of frizzy ease products and nothing works HELP!!!!!
---
Name: Songig
City: Rowland Heights
Comments: Which Shampoo or conditioner do you recomend to moisturize your hair? I do use chemicals to straightener and color my hair. Thanks
---
Name: lalit maheshwari
City: jodhpur india
Comments: hi my hair is very dry. it is also currly iwant brightness &sinny hair.plz advice me
---
Name: mouse
City: waaia
Comments: i am an african beast well that is wat i feel like wen my hair is afro and that is everyday im fat and ugly and i would just wish that my hair looked good to
---
Name: SWAPNA
City: KHURDA, ORISSA, INDIA
Comments: Madam, My hair is oily but when i wash my hair and get dry after then i can't roam by opening it as it get dry and curly.
---
Name: ashish
City: indore
Comments: i am 16 years old & having problem of hairfall plz suggest some herbal tips to restore my hair &prevent it from falling
---
Name: Jojo
City: Brooklyn
Comments: Hey, i'm 16 years old, i don't wash my hair often cause it natural and wavy, it so thick i can't handle it, it not hard but it takes forever to style. I growing out my hair, right now it's like 3 inches below sholders. Do you guys have any tips of what i can do to make it grow faster and what styles can I do with my hair without damanging it. my hair is also dry, brittle and weak. Please help!
---
Name: NIDHI
City: gurgaon
Comments: I WANNA GET FAIR COMPLEXION,WT TO DO
---
Name: patrick cameron
City: loughborough
Comments: hi di, long time no see, really miss you and would really like to meet up with you again. p.s remember that picture we had took togeather!
---
Name: Mr. Toni
City: Bombay
Comments: hello dudas, im having great problems with my hair, it is really itchy and smelly, do you have any solutions please.
---
Name: smita
City: kerala
Comments: i had hairfall after i straightened my hair, but then i started using kerajam keshamritham, one ayurvedic oil got from southindian markets, it just works gr8, now nomore hair falls and it regained its texture back
---
Name: Michelle
City: Sarasota
Comments: after washing comb it then put it in a bun or braid over night. In the moerning if your hair is dry it will be alot less poofy.
---
Name: kausar
City: mumbai
Comments: i have curly and frizzy hair.plz recommend shampoo and conditioner to moisturise hair.
---
Name: leah
City: china
Comments: i have streight hair with these strange bald bits and i don't know how to control these bald bits im very upset about this i cry my self to sleep because people point and laugh at me can you help me
---
Name: chad
City: bagdad
Comments: i have long brown hair that keeps turning different colours while im a sleep i personally don't like this because last week i woke up and my hair was multi coloured i find this amousing but bacause people laugh at me i've had to go to a metal home because of this help me
---
Name: Amita
City: Bangalore,India.
Comments: To Vijay from Bangalore: tulsi does not get rid of head lice.Unfortunately.
---
Name: sandy
City: Kingston Jamaica
Comments: I'M A YOUNG LADY AND MY HAIR IS STARTING TO SMELL IS IT BECAUSE I'M UNHEALTHY
---
Name: Angelina
City: Kolkata
Comments: My hair is dry & frizzy.what shampoo & conditioner should i use.as I am useing sunsil shampoo ( Henna & lotus )pl mail me.
---
Name: diya
City: Edison , NJ
Comments: Hi My hair is very long, dry frizzy n curly)Nothing helps i did everything. conditioner makes it worse, egg makes it worser, gel , mousse nothing works.. i love long hair so i dont wanna cut.i dont have split ends. If i put oil it looks dead.My hair looks as if i have been playing in the sand and mud for a long time I am a college student so i dont have much time to spend on my hair. I always have to tie my hair up, as every day is a bad hair day for me. i need help badly !
---
Name: nisha
City: delhi
Comments: my hair is too much falling and it is very thin my hair is straight plzgive me natural way to prevent this and make soft and long hair
---
Name: nisha
City: delhi
Comments: my hair is too much falling and it is very thin my hair is straight plzgive me natural way to prevent this and make soft and long hair
---
Name: Niamh
City: Dublin
Comments: hey,any ideas on how 2 revive thristy dry hair,pleaz in desperate need?..my hair is destroyed from blow drying & straighting reguarly
---
Name: SHARON MCNABNEY
City: BALLYMENA
Comments: I HAVE TRIED DIFFERENT SHAMPOO'S BUT NONE OF THEM SEEM TO IMPROVE MY HAIR? ARE THERE ANY SHAMPOO'S THAT WOULD MAKE A REAL DIFFERENCE TO MY HAIR? WHAT IS MY HAIR LACKING AS IT IS EITHER GREASY OR DRY? WHAT FOOD SHOULD I EAT MORE OF? DO I NEED TO DRINK MORE WATER OR EAT MORE FOODS RICH IN PROTEIN AND B VITAMINS? WHAT ELSE SHOULD I DO? WHAT DO I NEED TO EAT? WHAT SHOULD I WASH MY HAIR WITH?
---
Name: LIFELESS
City: LIFELESS
Comments: MY HAIR IS SO DRY AND LIFELESS?WANT SHINY LONG HEALTHY HAIR?WHAT SHOULD I DO?WHAT WILL SPEED UP MY HAIRS GROWTH?I FIND MY HAIR JUST DOES NOT GROWTH AT ALL OR NOT MUCH?SO WANT SHOULD I DO?WHAT SHAMPOO SHOULD I USE?IF I USE A CONDITIONER IT ALWAYS LEAVE IT GREASY?WHAT CONDITIONOR SHOULD I USE?I WANT THICK SHINEY HEALTHY HAIR?HOW WOULD I GO ABOUT GETTING THIS?IS IT MY DIET?SHOULD I USE A SHAMPOO AND CONDITIONER WITH LESS CHEMICALS IN IT OR WHAT?WHAT SHOULD I DO?
---
Name: bableen
City: cochin
Comments: i have straight wavy hair.but my problem is it is very frizzy.plz tell me which shampoo,conditioner should i use?and there is no shine for my hair.plz send me some home remedies too..
---
Name: tina
City: Delhi
Comments: i am using garnier color netural hair colour, please advice me shampoo and conditioner for retaining moisture and sheen, also if any hair oil works for it
---
Name: Dawn
City: NYC
Comments: I would like to know what do you kind of products do you use to keep moisture in your hair.
---
Name: yasmeen ashraf
City: karachi
Comments: my hair is continousy falling since last 10 years now i think i will go bald pls suggest some goddeasy remedies please thanks
---
Name: Geo
City: upland, CA
Comments: Well I have short hair and it's naturally curly. I put gel in it to style my hair so it can just curl up. I have been using that gel since I was like 8( la Bella is the gel) but its starting to look a little bit fizzy now and not silky like it use to look. So I use conditioners (leave ins. and it kind of holds my hair down and I tried others but they don't do anything. what can I do to stop the frizz and use my gel. Or a different gel.
---
Name: wellwisher
City: nowhere
Comments: i think there are more questions than answers in this site .. lol .. anyway whenever i see this site i feel like these people are getting matter from here and there and sticking it here .. i see there are some missing links to subject and matter ..
---
Name: JASMIN
City: BROOKLYN
Comments: HOW TO GROW UR HAIR BACK IF IT FAILS OUT BECAUSE OF A PERM
---
Name: JASMIN
City: BROOKLYN
Comments: HOW TO GROW UR HAIR BACK IF IT FAILS OUT BECAUSE OF A PERM
---
Name: Shreya
City: Alexandria
Comments: To Sandy... Do you straighten your hair too much?? If so, your hair might be smelling because it is burnt. YOu should stop straighting it or try something else that does not require heat ..good luck
---
Name: Medved
City: Moskow
Comments: Great sie
---
Name: Sohana
City: Dhaka
Comments: Hi, my hair was very silky n straight b4, but afta li'le colour, wich was done years back n ironing, it has bcome xtremely rough. I wanted to rebound my hair but, few parlours said it's not possible with coloured hair. That's really depressing for me with dis hair now, isn't there any way to rebound n straighten my hair permanantly?
---
Name: nupur desai
City: mumbai
Comments: my hair are really very dry,becoz of tht i cannt keep my hair open,i always have to tie them up.i treid a lot of shampoos n conditioners,bt none of them worked,recently i m using pantene hair damage shampoo n the same conditioner,plz help me out to make my hair loook smooth n lustrous
---
Name: shrikant
City: nashik
Comments: my hairs are too dry, rough, curly, frizzy, difficult to comb. i find it very problematic to set them after bath. plz, help me to make them silky as well as straight.
---
Name: sushmanambiar
City: Bangalore
Comments: My hair is dry n frizzy. I apply oil once a week andwash itwith Pantene anti hairfall shampoo and then i conditin with Suave Conditioner. This conditioner did help me in the past but now i am not sure it does. Recently i came across Ultra doux livein dream 4 frizzy hair. But i am scared to use. Please tell me what conditioner or shampoo i should use and if there are any moisture cream available in India.
---
Name: leena
City: dhaka
Comments: My hair is too curly and rough, fizzy what should i do to take care of my hair and pls suggest shampoo and conditioner to be used.
---
Name: sofia
City: bangalore
Comments: can you tell me how i can handle my rough,dry,curly,frizzy hair?how can i moisturize it with homemade packs?
---
Name: jassi
City: delhi
Comments: hi i have rebonding my hair nine month before,my hair was so dry not curly but rough but after rebonding it's good but now again became very dry and straughtning is going for fonish and also hair fall and dandruff.tell me what can i di to escape my straightning. i am not use special shampoo .plz telll me the shampoo.plz give me mail thanks
---
Name: nurul hidawahti
City: singapore
Comments: i have just rebond my hair abt a month ago but i realise a got a bad hairfall .. a fizzy hair can i have some comment from you to make my hair straight for a quite a long time ..
---
Name: Jeneva
City: TaQRnujJRl
Comments: There's a secert about your post. ICTYBTIHTKY
---
Name: jxkffcw
City: XqhXRUFia
Comments: fi7aCF yedvhxqoukqz
---
Name: iptxprph
City: NguOwyKdEKOPoLxyJNZ
Comments: b6it3Q ykvvpexmidzk
---
Name: Noni
City: Orlando
Comments: Is there any way to LOWER the porosity of your hair?
---
Name: bharti gandhi
City: new delhi
Comments: i got my hair all messed up beacuse i colr them every now and then just tried to become blonde. i am half italian so this frizzy hair makes smell and my husband recmmends me to stay away from him . what should i do?
---
Name: susan
City: venice, italy
Comments: bhartiyou should take bath everyday and in bw what has this to do with you being italian or not. first always remember you are human.
---
Name: actuamutt
City: Ennis
Comments: Nike Unengaged TR Fit 2 Shield upper of textile materials in strip with seasonal requirements, enhances the tenderness and durability, and meditating bodily, in nike air max 1 dam poor visibility when light and DWR (firm water impervious) coating to complete breathability while, moderate ease up on feet barren in dripping weather. Shoe northern collide with on the preferential of the bow down suds enhances foot support and stability. Quality proportion of the Nike Unrestricted shoe Channel lay out provides ductile like tell feet be aware and constancy of multidirection movement while nike free 3.0 sverige retaining cope and shockproof main attraction engrained in training shoes. Lightweight Phylite midsole can bring and plenty of durability, which increments the utility exponentially outsole, which significantly reduces the onus of the shoe. Down and foot rubber grooves made of environmentally buddybuddy materials, help to enhance its nike air max 97 multidirectional grip on all kinds of road surfaces.
---
More Videos...
DISCUSSION FORUMS ON
Hair Care
HS
Hi Pl send your email id so i can see ur pics ... - raj read >>

reply to nancy
Yes, my venidaan was also done for the same reason. And when it comes to the life of your husband, what do you really say. I have go get my mundan done. I was married only for 2 days when that happened to me. and then it has been about 8 months ... - girija read >>

Reply to Preeti
After my venidaan my head has been shaved 10 times. My MIL is instructing to get it done every full moon night. The first mundan was at river ghaat. Second mundan was done by my husband at home and then next 2 he called the family barber home an ... - girija read >>

reply to bhawna
Hi bhavana,
I was also made bald against my wishes. Since last 8 months on every full moon night I am having mundan. Everyone laughs and i miss my hair. So many times I have had mundan. And after razor mundan by barber, my husband shaves by p ... - girija read >>

hi
hi ... - hari read >>

hi
hii ... - hari read >>

my photo
Hi frds sorry to every one.lot of frds ask to me when will you upload your hs photograph. This week i am free so day after tomorrow i will upload my photo. Anybody wants my hs videos plz contact my mail have a good day frds. ... - revathi g read >>

Question??
Hi Girija dear hw many time ur husband shave ur head after ur veni daan & is it he himself do that or take u barbershop or asked barber to come home & do ur mundan again & again??? ... - Preeti read >>

veni daan
oh my god! No we are not that traditional so no nose piecing.All this veni daan talk came up due to some dosham in my horoscope:( that is supposed to ve an effect on my hubby' s health and longevity.Well i' ll try rebelling against this nightm ... - nancy read >>

veni daan experience
hi nancy,
veni daan is full headshave. They will take you to a sacred river after your wedding and full head mundan will be performed there. First pass of razor will be made by your husband and then your entire head will be shaved by the barb ... - girija read >>