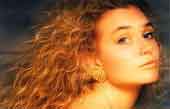 Coloured hair lightens and brightens the face, and makes you look better. Before you decide on whether or not you should colour your hair, ask yourself these questions: Do you have split ends Is your hair damaged Has your hair been recently chemically processed (permed or straightened) If your answer no to all three questions, your hair should stand up to colouring without any problem.
Highlights or all-over colouring
The first thing you need to decide is whether you want to highlight strands, or if you want to colour your entire hair. Both look good, and what works for you is a matter of personal choice. Here is a quick comparison:

Highlights tend to look good on straight hair, but if your hair is curly, you could opt for colouring your entire hair.

Highlighted hair is, of course, easier on the hair, as only selected strands of hair are coloured and not the entire hair, but once again, if you take care of your hair after colouring, there will not be any damage.

You could colour your hair at home instead of spending big bucks at a beauty saloon, by simply purchasing a packet of hair colour. Various brands of reputed companies are available in the market. However, you will not be able to give your hair fine highlights without professional help.

I have lovely hair. Will colouring ruin my hair
As long as you look after your hair well after colouring it, the quality of your hair will not go bad. Your hair may dry out a little, but regular oiling would keep the dryness under control. It is a myth that colouring ruins your hair. However, if you neglect your hair after colouring it, if you blowdry it too often and don't bother oiling or conditioning your hair, you will definitely cause it harm. Using colour that is too harsh, or leaving the colour on for too long, may also damage your hair. In any case, your natural hair that grows out will be just as healthy as it always was, and the only portion that will get damaged is the coloured part, so don't believe that your hair will get ruined for life after colouring it! In fact, if your hair is too oily, get it coloured to balance it out.

Should I colour my hair if I have split ends
If your hair is damaged, colouring it will only damage it further. Wait until your hair recovers before subjecting it to any form of chemical treatment.

Why should I do a strand test
If you are colouring your hair by yourself, make sure you do a strand test. Many women apply colour to their hair and wash it off only to find that their hair has not caught any colour at all. So colour a very small portion of your hair first, to see how long you need to leave the colour on. If you have curly hair, leave the colour on for less time than that specified, as curly hair is porous, and catches colour easily. If your hair is straight and healthy, it may take a while longer to colour your hair, so leave it on accordingly. After taking the strand test, you will get a general idea as to whether you need to leave the colour on for more or less time.

After-Colour Care
Oil your hair at least once a week. Apply a generous amount of warm oil to your scalp, and massage well, so the oil spreads right to the ends of your hair. After applying oil, whip up the yoke of an egg and apply it to your hair, for extra conditioning. If you like, you could add curd to this mixture too. All of these natural products are excellent for the hair, and provides it with all the nourishment it needs.
Leave the oil, egg and curd on for at least 45 minutes, and then shampoo your hair. Use a gentle shampoo, preferable one especially formulated for coloured hair.
Apply conditioner after shampooing your hair, to prevent your hair from drying. You could also consider a leave-in conditioner, which is preferable for chemically processed hair.
Natural alternative to conditioner:
Another tip for conditioning hair that works well for me is to simply apply curd to the hair after shampooing, leave on for five minutes, and rinse off. Do not apply shampoo again; simply rinse off the curd with water. This conditions your hair rather well, and keeps frizzy hair in check. However, I do follow up with conditioner, for increased protection.
Natural alternative to leave-in conditioner:
Apply 2-3 drops of oil, more for longer hair, to your palms. Rub them together, and apply to your hair.�