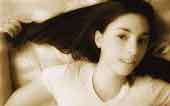 'I have thick, black, rough and dry shoulder-length hair. I wash and condition my hair once a week. Though my hair feels silky to the touch when wet, after it dries it gets so frizzy! I am at a loss and just don't know what to do. I constantly keep my hair tied, and wish I could leave it open at times, but I cannot. Please help me!'
longchamp pas cher sac longchamp pas cher nike air max
-
Kausalya, India
Millions of women around the globe suffer from exactly the same problem: frizzy, uncontrollable and untidy locks.
Just as a woman with a low metabolism rate will need to exercise more to lose weight, so also, a woman with frizzy hair will need to put in additional effort if she wants her hair to look good. Simply shampooing and conditioning hair is not adequate 'not if you want to get rid of the frizz.'


Moisture
Hair which is naturally frizzy lacks moisture and protein. Thus, the first step you need to take is to ensure your hair has sufficient moisture.
Apply egg yolk to your hair around half an hour before washing your hair.
Wash your hair with a moisturizing shampoo, and follow up with a conditioner. Unless you exercise, you need wash your hair only once a week.
Invest in leave-in conditioner. After washing and conditioning, towel dry hair and apply a small amount of leave-in conditioner to the ends of your hair.


Styling your hair
If your hair is frizzy, you will need to spend some time styling it if you want it to look good. Do you want to go straight or curly? Once you have that worked out, apply a generous dollop of gel to damp hair to hold the style and to tame frizzies, and get started.
Apply rollers and leave them on until your hair dries completely. Avoid applying heated rollers unless essential. You could also apply sponge rollers at night, and remove them the next morning.

Straight:
If you want to straighten your hair instead, blowdry it straight with the help of a round brush.
Blowdrying all your hair together will be of little use; you need to blowdry small sections at a time.
Clip up the damp, unstyled hair with the help of two clips, and proceed to blowdry small sections, starting from the back of your head.
When the hair is almost dry, reduce the heat of the blow dryer so you don't over-dry it.
Be patient. The entire process may take half an hour. Don't rush it, or you will not get the results you want.
Grow your hair long, as short hair tends to curl faster. If your hair is long, due to the weight, the curls open up. Your hair would be far easier to blowdry, and it will stay straight longer.


Oil
Safflower oil is excellent for frizzy hair. When your hair is completely dry, after styling it, apply 2-3 drops of safflower oil to your palms and rub them together. Apply this oil to the ends of your hair. Use more oil for longer hair, but ensure that the amount you apply is very little, so your hair does not look sticky. Leave this oil on in your hair. This will help tame the frizzes.


Chemical Treatments
You could consider going in for a perm, so your frizzes get converted into glossy curls. If you long for straight hair, you could also opt for a straightening treatment, though a perm is less harsh than chemical straightening.
Whether you decide to perm or straighten your hair, you cannot afford to neglect it after the treatment as it could get damaged. But as long as you take care of your hair, oil it regularly, wash it gently and follow up with a conditioner, there should be no problem even after getting a chemical treatment done. Similarly, avoid going in for two chemical treatments together. If you must perm or straighten your hair, do not highlight it and vice versa.


Minimal Fuss
If you would rather not blowdry or style your hair, but simply want your frizzes to be manageable, here's what you could do:
Start growing your hair long.
After shampooing and conditioning, apply a few drops of oil to your damp hair.
Apply a generous amount of gel to your hair.
Brush your hair well, and then plait it.
When dry, open up the plait, and apply a little more gel to the ends of the hair, to tame any frizzes.
The result? Your hair may not look silky, but it will not be spreading out in all directions. The 'bushy' effect will be dramatically reduced, and your hair will look wavy and in control.