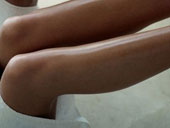 Frequently asked questions about this permanent method of hair removal, answered.
What kind of hair is most suited to laser therapyNULL

While it is natural to think that fine hair is most suited to laser therapy, the reverse is true. Thick, coarse, black hair is the most suited to this method of hair removal. In fact, it may not be possible or very effective to remove fine hair in darker skinned people by this method. The difference between hair colour and skin colour should be fairly stark.

Similarly, laser cannot be done on white hair. This is because the laser seeks out the melanin pigment in hair and white hair has no melanin. In order for laser treatment to be effective, it needs to be done on hair that is darker then the colour of skin. If you have a tan, you will not be able to start laser treatment unless the tan is completely removed or you tanned skin may get burnt by the laser.

How many sessions are requiredNULL

Laser treatment is more expensive than electrolysis, but it requires far fewer sittings than electrolysis does. In electrolysis, hair is removed from small areas at a time, but in laser, hair from the entire area requested is removed at one sitting. After a while, some of the hair will grow back, which is when you need to return for a second or third sitting. It is not possible to completely predict the number of sittings that will be needed, and similarly it is not possible to guarantee results. What is certain is that hair growth reduces with each successive sitting. You could speak to your beautician about charging one fixed price for a particular area. So if you are being charged Rs. 5,000 for upper lip hair removal, the price should be the same irrespective of the sittings required, or perhaps a nominal fee per sitting could be charged.

Is it painfulNULL

The treatment is not entirely painless. When the laser is directed to the hair root, you will feel a sensation similar to a pinprick, accompanied by some pain.

What do I do when hair starts growing backNULL

You are not allowed to wax, pluck, thread or use any method of hair removal that removes hair from the root, prior to your next laser sitting. Patients are advised to shave hair between sittings. This is because the hair needs to be present under the skin, for the laser to seek it out and destroy the hair root.

From what areas can hair be removed by laser therapyNULL

Laser therapy is safe and can be done on any area of your body, except on areas close to the eye. The most common areas from which hair is removed are upperlip, face, back, arms, legs, bikini line, underarms, chin, neck, stomach and chest.

My child is extremely hairy. Can she undergo laser therapy as wellNULL

Yes, laser therapy can be successfully done on children, but whether you see the need for it at this young age in another matter entirely. You could leave the decision to your child when she is older.