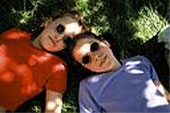 Stay cool, and look cool despite the sweltering summer heat. Here's how to beat Mother Nature.



White

Nothing looks more striking than all white. Often, people tend to pair off a coloured top with white pants. While you can definitely do that, you will stand out much more if you stick to head to toe white. The best part of wearing one solid colour is that you can team it up with accessories of any other colour, without bothering about whether it matches with your clothes. Naturally it should not clash with what you are wearing, but do not be afraid of contrasting colours. However, if you are not wearing one colour, preferably match your shoes and bag with either your top or with your trousers to look completely haute. Needless to say, the more economical option would be to have one striking set of matching shoes and bag, which you can pair with any other outfit if you stick to single colours.

As far as possible, stay away from black during the day, and this includes black belts, black bags and black shoes. A thick, decorative black belt with white linen trousers and a cool shirt can look a little jarring.

Slippers

Summer dressing should be as simple and uncomplicated as possible. Slippers are the cheapest footwear you can lay your hands on, and they look great in the summer. In addition, you can buy slippers in a variety of colours without breaking the bank.

Linen

Linen is possibly the coolest fabric you can be seen in during the summer. It looks great, and is very much de rigueur this season. And the best part It helps keep your cool in the heat. Please, please, stay away from denim! Denim is a thick, heavy fabric, and totally unsuitable for summer wear. Light, thin denim jeans are fine, but stay away from the regular thick denim and under no circumstances should you wear corduroy. Similarly, stay away from anything velvety or suede. Linen, jute and pure cotton are fabrics you should live in to beat the heat.

Sunglasses

Wear sunglasses. Sunglasses not only look cool, but they play a much more important part than being just a fashion accessory. Sunglasses protect your eyes from ultra-violate radiation, and also delay the onset of crow's feet and under-eye wrinkles by reducing your need to crinkle your eyes in the sunlight. In addition, sunglasses help when driving, as the sudden glare of the sun may at times render you momentarily blind.

Ah, Chaas!

Instead of a glass of tea, coffee or milk in the morning, drink a glass of lassi (buttermilk). Lassi is very cooling, and is the best drink to have in the summer, especially to counter the heat in your body generated by all those mangoes, and by the soaring temperature! Have salted lassi instead of sweet lassi, as one tends to get dehydrated faster in the summer and salt aids water retention. And, naturally, cutting down sugar helps cut down the calories! Avoid eating food from the roadside in the summer. Food gets bad faster, so there is a greater likelihood that you will be eating something spoilt or contaminated.