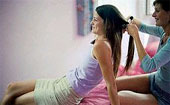 Those with straight and silky hair are quick to rush in for a perm, while those with curly, wavy locks long for smooth and straight hair. Here's how to get your hair straighter, faster.

The grass is always greener on the other side, which is why those with straight and silky hair are quick to rush in for a perm, while those with curly, wavy locks long for smooth and straight hair. It is however far easier to curl straight hair than it is to straighten curly hair. Straightening hair is a lengthy and apparently never-ending process. If you've always dreamt of having straight hair but didn't know where to begin, if you've longed for smooth and silky locks without a clue as to how to achieve the same, you've come to the right place. Read on for tips on getting your hair straighter, faster.

Long Hair


Grow your hair long. Short hair tends to curl more, and is harder to straighten. In comparison, longer hair is relatively easier to straighten. Because of the weight of long hair, the top portion tends to straighten out on its own, leaving only the ends curly and giving a very nice, soft effect. This, of course, depends on the strength of curl you have in your hair. Very curly hair may retain its curl along the entire length, even when very long.

Chemical Straightening Should you straighten your hair chemicallyNULL


One thing that is important to remember is that even after you straighten your hair chemically, you will still need to blowdry it straight after every wash. The only difference is that it becomes easier to blowdry your hair straight at home after a chemical straightening and you will not need to go to the parlour to get it blowdried straight. Remember to always blowdry hair straight in sections. Invest in a powerful blowdryer for maximum effect. A blowdryer with a diffuser attachment reduces frizz. Alternatively, try applying a leave-in conditioner or a serum like Livon to combat frizz.

Ironing Hair


If you like rod-straight hair (think Preity Zinta in Kal Ho Na Ho), ironing hair is easier to do at home than blowdrying, but ironing is harsh on the hair and again, it only lasts until the next wash. So if you iron your hair regularly, avoid other chemical treatments such as colouring your hair. Trim your hair regularly to keep split ends in check and maintain your length at a few inches below your shoulders. If you want to keep it longer like perhaps waist-length, avoid ironing the ends of your hair and iron it only from the top. Let the ends remain curly. In this manner the ends will be healthier and you will be able to grow hair longer. Consider investing in a ceramide hair iron, where the ironing plates are made from ceramide. These irons are more expensive than regular irons but are more effective and also far, far gentler on hair. If a ceramide iron is beyond your budget (they generally cost at least Rs 3,500), consider going in for a steam iron instead. Make sure you try out the iron before buying it as you don't want to be stuck with an ineffective hair iron.

Japanese Hair Bonding


This is the latest method of chemically straightening your hair. When your hair is straightened by this method, you will not need to blowdry your hair straight after every wash. The hair that has been straightened stays straight for life, and you will need to re-straighten new hair as it grows by way of touch-ups. This is the most expensive method of hair straightening, and some parlours charge as much as Rs 10,000 for hair a few inches longer than the shoulders. Make sure you go to a reputed parlour, as there is no point if this job is not well done.