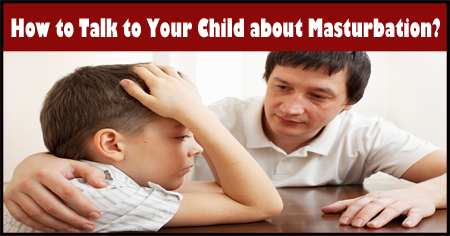 It is very disturbing for parents when they find their children masturbating. But, it is very important for them to handle this issue with sensitivity. Read on to know how to talk to children about masturbation.

Adolescence and puberty, which go hand in hand, is a period of self awakening. It is an integral period in the life of an individual, when his or her body is undergoing numerous physical changes. It is also a period of intense emotional and mental turmoil- the individual is finding out more about himself or herself and discovering things which were unknown to him or her before.
It is also an extremely confusing period in one's life. If you are a parent, it is your duty to ease your child's transition from childhood to
adulthood
. Your child will be encountering different issues, like
masturbation
which is a normal, physical need of the body. There is nothing wrong in it, and you can help your child only when you have come to terms with it.
Ignorance is Not Bliss!

Most parents have a tendency to shy away or avoid
talking to their children
on matters related to sex and masturbation. If you want to have clear lines of communication with your child, you need to talk! You too were young once upon a time, you too had similar urges. So you can understand what your child is going through. Masturbation is a common topic of discussion amongst youngsters. And you certainly do not want him or her to get wrong information from his or her friends in school or college.
Do Not Make them Feel Awkward or Embarrassed!

The only thing that both parents and children fear is "the talk". There is nothing to feel awkward about this as he is your child; he should be able to come to you about such matters and open up to you. Make him understand that the hormonal urges he has been feeling are perfectly natural, and that there is nothing unhealthy about masturbation. Most importantly, tell him that it is not wrong to masturbate, and irrespective of whether your child has experienced it himself or not, he should not feel ashamed about it.
It is How You Talk that Matters!

Now it would be wrong to assume that talking about masturbation is about if they should or should not do it, and how to do it. There is much more to it. When you sit to talk to your child, start by defining what masturbation is really all about. Do not react negatively. Tell him that it is something one does for one's own pleasure, and it usually involves touching one's private parts. Be direct and to the point, do not beat around the bush; it might end up confusing your child.
Do not feel awkward or embarrassed while talking, your child will pick up on this and feel the same way.
Use Examples!

While talking to him about masturbation, use simple real life examples. You can tell him about something that you were forbidden to do as a child and help him relate to it. Also, you need to use examples to show him that it would be wrong to masturbate in public. Just as he does not use the washroom in public or undress in public, there are some things like masturbation which should be confined to the four walls of your bedroom.
Encourage Him to Come Talk to You

In today's day and age, children are a lot more exposed to such matters which used to be all hush back when you were kids. Films, the internet and most importantly, friends are an important source of information. But more often than not, this information is wrong- it is glorified and often misinterpreted for commercial purposes. Encourage your child to come and talk to you. If he sees something on the television, or hears something in school, he should be able to clarify before believing it.
You have to realize that it is up to you to raise kids who are sexually aware and healthy. Open lines of communication is key to that, your child should not be ashamed to come up and ask you or talk to you.
Is it alright to yell at children if they masturbate? What are the ways to talk to children about masturbation? Is masturbation unsafe for children? Discuss here.