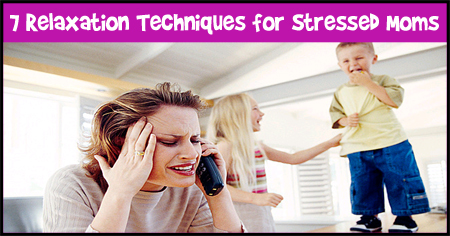 Moms have to carry out multiple responsibilities therefore, it is necessary for them to remain stress free. Here are 7 relaxations techniques which moms can practice to get rid of their day-to-day stress.

Moms play very important role in the life of a child. Whether it is a new mom or the one with more than one kid, stress can obstruct her from carrying out her
responsibilities
well. Regular stresses can hinder the normal lifestyle of a person and the same goes true for the moms. It is important for the moms to get relaxed from time to time so that they do not create any adverse effect on her
child's daily routine
and the kid can enjoy a normal childhood.
1. Meditation
Anxiety stops moms from getting relaxed especially when it is related to their kids. Regular meditation is helpful in reducing the anxiety level. If untreated in time, anxiety may lead to severe mental problems and take toll on health too. A 10 or 15 minutes meditation time will surely help moms to throw away their stresses and if they can manage it in the morning, it is great way to start a day.
2. Deep Breathing
The immediate solution to anxiety and stress is deep breathing. Moms should spend at least 5 minutes to sit up straight with closed eyes and then inhale air very slowly through the nose. Then the process of exhaling has to be done slowly through the mouth. With deep breathing, the heart rate slows down and blood pressure is also reduced which helps in lowering the stress level.
3. A Brief Nap
Throughout the day, moms keep on doing different types of activities. Right from the homemaker to the
working moms
, they have varieties of responsibilities to perform. Many a times, they need to get up earlier than other family members to accomplish their responsibilities so there is lack of sleep. Taking a short nap during the day can revitalize body and mind of moms and they the required energy to carry on their work effectively.
4. Friends
Social media has become easily accessible so moms can shed off their stresses by getting in touch with their friends. When moms get in touch with their friends and near ones over phone or through internet, they are sure to get their mental burden lightened and look at things with different attitude.
5. Laughter
Everyone has stress in their life but that does not mean that living quality has to be compromised. Laughing out loudly not only reduces the mental agony but it also lowers the level of stress hormone present in the body and increase the level of endorphins, the brain chemicals that boost up our mood. When moms feel too stressed they can start watching their favourite TV serial or movie, read a book or talk to a person who can make moms laugh aloud.
6. Music
Listening to a soothing
music
is very helpful in reducing stress level. It lowers heart rate and reduces blood pressure and therefore can help in controlling anxiety level in moms. Moms could listen to their favourite songs, instrumental music or nature sound in order to control their stress level.
7. Exercises
One way to reduce mental stress for moms is to remain physically active. Regular exercise, brisk walking or yoga postures are helpful in controlling depression and anxiety in a person and boosts up the mood of a person by increasing the secretion of endorphins. As moms find it difficult to manage their time because of their tight schedule, they can try out simple activities like climbing up the stairs, walking around the locality or simple stretching exercises.
Stress is harmful for everyone and moms are no exception. Moms must be extra careful in combating their stress and anxiety as their behaviour can affect their kids intensely. The above mentioned relaxation techniques are helpful for moms to shed off stress and anxiety faster.
Why is it necessary for moms to be stress free? How can stress affect the health of moms? Which are the best relaxation techniques for moms? Discuss here.