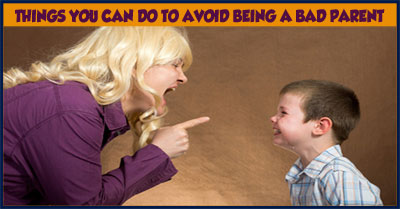 Good parent behaviour is the key to healthy and happy relationships and happier parents and kids. Follow the tips for practicing positive parenting to raise emotionally intelligent child.

Good parent behaviour is not only about showering love and pampering your child, it needs to take some firm steps also. Good
parent behaviour
is essential and practicing
positive parenting techniques
is important to raise well balanced children.
Parenting is one of the most difficult jobs in the world. Functional and dysfunctional parenting can be pointed out, but people forget that parents are after all human beings and they have to deal a lot of other things also in life. This does not mean that you cannot practice positive parenting and show good parenting behaviour.
On one hand parenting means showing love and care to your children and on the other hand setting rules and sticking to them to
discipline
them. The focus should be on balancing both of them. One of the best ways to do this is to practice positive parenting.

Why Positive Parenting?
Why? Because,positive parenting works right from toddlers to teens. When you will opt for positive parenting, you can stay assured that your child will willing behave properly. On the other hand strict parenting raises children who lose interest to please their parents.
Positive parenting is considered as simple guidance that will help your child getalong with on the right path which is offered in a positive manner. This resists any pull to be punitive as well. This helps kids in turn to learn responsibility and consideration as well as makes for happier parents and kids.
How to Use Positive Parenting
One of the biggest misconceptions that people usually have is that discipline means
punishment
. Well, punishment means imposing something unpleasant for the behaviour of the child which is considered unacceptable by the punisher. Discipline, on the other hand, means to teach or guide.
Since we all grew up with the negative associations to the term 'discipline', nowadays positive parenting or positive guidance is being used when it comes to discussing on how to discipline children. This helps parents to connect well with their children and support them so that they remain open to guidance.

Tips to Raise Amazing and Emotionally Intelligent ChildCreate a Good Relationship with Your Child
This will help your child to respond to gentle guidance which is opposite of threats and punishments. Try to have a close bond with your children because kids who feel connected with their parents want to please them as well.
Evaluate Your Way of Teaching
Weigh your teaching to find out whether it is strengthening or weakening your relationship with your child. Just keep in mind that punishment is destructive to your relationship and it will trigger more misbehaviour. Positive guidance is about setting limits and reinforcing expectations. This will make your child focus on improving her behaviour without getting angry at you.
Stay Firm but Stay Connected Simultaneously
There are times when your child would throw
tantrum
or want to continue playing longer, but you will have to stay firm. At the same time you also have to make sure that your child feels connected because children misbehave only when they feel bad or disconnected from parents.
Set Limits with Empathy
Children need to be taught many things and have to be stopped in many situations because parents are responsible for teaching their children basics of living a good life and becoming a good person as well. In this regard, parents need to set some limits and stay firm on them too. So, understand your kid so that she readily accepts your guidance.
Avoid Hitting in Any Situation
Even if your child has made you angry and really mad, the formula is – no hitting. It is advisable to calm down and ask her to sit and talk over the issue.
Stop to Introspect
When your child does not accept your directions, it is time to stop and think about how to strengthen your relationship.
Mind Your Manner
Kids follow almost everything if they are asked lovingly. You should find a way to say 'yes' instead of a 'no' so that your child responds with a generosity of spirit just like yours.
How You Treat Your Child Matters
In fact the way you will treat your child will define the way she treats herself. If you set limits but in a loving and affectionate manner, she will do the same when it comes to setting limits for herself.
Parents usually treat or deal with their children the way they were dealt with when they were kids. However, loving guidance and positive parenting results in developing child's self-discipline and this is the most important aspect of living a better life. One of the most important things that parents should keep in mind is that kids follow only what they see. So, set good examples for them.
What is good parent behaviour? How does good parenting affect the kids? How can parents implement positive parenting? Discuss here.