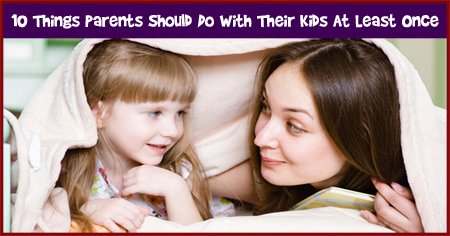 Parents should get involved in fun activities with their children so that on growing-up they have fond memories to rejoice. Read on to find about the 10 things parents should do with their kids at least once.

Your children may be little right now but soon they will be ready to fly and make their own lives. It is crucial to raise them with good memories that will make them smile and encourage them to perform better in their lives.
There are a few things every parent must do with their kids at least once to make the parenting journey exciting and a memorable one:
Camp Together

Camping is always a fun way to
bond with your kids
as well as a smart way to teach them about surviving all by yourself in nature. You and your partner can take your kids camping once in a while to get away from normal life and enjoy the joys and laughter of being with just your loved ones. While camping together, you can also incorporate in them the values of resourcefulness, independence, courage and sharing.
Take a Day Off Work and Let them Plan the Day

Parents often get so occupied with their career and jobs that they might have the tendency to give their children less attention than they need. To surprise them, take a day off and let them plan the day which will make them feel special. You can even provide them a budget to teach them about managing money and make it a memory they will always cherish.
Tell Your Children About Your Own Childhood Experiences

It is hard for your children to picture you at their age. Surprise your kids by being a fun parent and talking about your favorite childhood memories. You can tell them what interests and hobbies you had when you were their age along with
family
traditions and functions which will instill in them a feeling of bonding.
Play With Your Children

Your children would always ask you to play games with them when they are bored, be it an indoor board game or a game of badminton outside. Often, you are too occupied to play or these requests cannot be fulfilled because of inconvenient times. But by playing with your children without being asked will show your love for them and the smile it brings to their faces will be priceless.
Go Fishing Together

Children love to indulge in
fun activities
with their parents, especially fishing. Take your child out to fishing and a lunch on the shore when they least expect it and gift them a joy filled day to remember. You can enjoy a day by the water, where your children can practice fishing or take family photographs. But you need to be careful near the water to avoid any sort of danger.
Get Your Children Out of Bed When They Least Expect It
Sometimes amazing memories are made when you act in a pulse and surprise your children. Wake up your children when they least expect it and enjoy a fun activity they love together. You can indulge in sky watching or bird watching to show them the importance of sharing moments together.
Start a Food Fight

When your meal does not turn out the way it should, do not be disheartened. You can still make this experience a fun and a memorable one for your kids. Start a food fight just to create a playful environment and watch your children laugh about it, showing them that life is better when you can laugh at your own mistakes and seize the golden chance to make memories.
Reveal Embarrassing Truths to Your Children

Children are dealing with a lot of changes, especially during the ages of 10 to 15, making them physically and emotionally vulnerable. It is during this time you can be a friend and help them cope with these changes, before they become overwhelming and daunting. By revealing your embarrassing truths to your children, you become closer and help your child through a hard time.

Do What They Love

Sometimes it is okay to stop being a strict parent and indulge with your kids in the fun activities they love such as cycling, playing in the park or even jumping on the bed. This will definitely remind you of your childhood days and help your kids become closer to you.

Share Food

Share your food with your children, such as an ice cream to instill in them the qualities of sharing and making memories. They will appreciate the attention you bestow on them as well as enjoy your company as a friend.
By sharing a laugh or two with them once in a while, you can prove that you are fun parents as well and give them great
memories
to reminisce about in life.

Why is it important for parents to spend quality time with children? Which fun activities should parents do at least once with their children? Which activities can help to create memories with children? Discuss here.