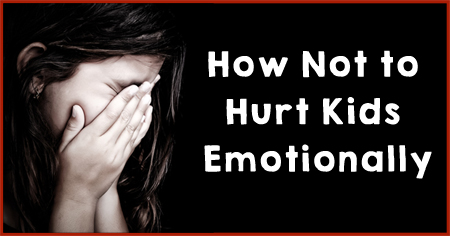 Certain actions of parents can hurt child's emotions. If the child is hurt emotionally, the impact can last even when he or she grows-up. At the same time hurting kids emotionally can also weaken the parent-child bonding. Read on to learn how not to hurt kids emotionally.
Raima has noticed that her son is no more a lively child any more. Her son stops talking and interacting with anybody when she makes him realize about his mistakes. As Neena's son is going into his preteens she wants to know if she is unconsciously hurting the emotions of her son. She wants her son to have healthy emotional growth.
Effects of Hurting Kids Emotionally
Children are very vulnerable and at times they get hurt very easily by the words or acts of their parents, caregivers, friends or others. When a child gets hurt emotionally for a prolonged period of time, he or she is likely to become an adult who has very
low self-esteem
and self-confidence. Such kids always have identity crisis which greatly affects their future lifestyle. As parents are considered as the best shelter for the kids, it is important that they make conscious effort to know how kids get hurt emotionally and to avoid doing such activities.
Alternatives to Deal Frustration
Parents have multifaceted activities to perform and it may happen that parents get frustrated or feel pressurised when they are unable to cope up with a particular situations. For the parents, the easiest way to show the frustration is to
abuse their children
verbally or to hit them. Some parents may think that they are doing it once in a while but slowly this becomes a habit and emotions of the kids get hurt every time parents abuse them verbally and/or physically. Short tempered parents may find it difficult to get rid of their habits of abusing the child but it is important that they undergo counselling or a parents' course to find out alternatives to deal with different kinds of frustration.
Always Show Love and Affection
Children would always appreciate when they find their parents showing their intense love and affection for their children. It may be a hug, patting on the back, kissing or listening to their baseless queries that make a child feel that the parents are paying enough attention towards him or her. When children make out that their parents are ignoring them, a feeling of rejection crops up in them and their emotions are hurt very badly. Slowly this feeling of rejection will force them to ignore their parents and they will stop bothering for others. Such children when grow up into adults would do harm to the society. Parents must show their feelings of love and care to their children and
spend quality time
with them so that children feel they are valued.
Room for Mistakes
When adults are not perfect then how could they expect their kids to do their work without committing mistakes? Parents must accept that children would learn from their mistakes. Comparing them with other children, encouraging
sibling rivalry
, or scolding them for their mistakes are never to be done. Every time a parent does so, the kids feel down emotionally. Parents must themselves understand that there is always a room for mistakes for their kids then only they will be able to keep their cool when their kids do something wrong. Grounding them or isolating them for their mistakes will make the situation worsen. Parents must also not
pressurize their kids
with impossible expectations failing which kids will break up emotionally.
Respect Your Spouse
When kids find their parents disrespecting each other or abusing each other verbally or physically their emotions get hurt very deeply. Such situations have to be avoided so that kids grow up with healthy emotions and are able to lead normal life.
By going through the above tips about how not to hurt kids emotionally, parents are going to help the kids grow with a correct mindset.
What are the repercussions of hurting emotions of children? How can parents avoid hurting kids emotionally? How to ensure emotional wellbeing of kids? Discuss here.