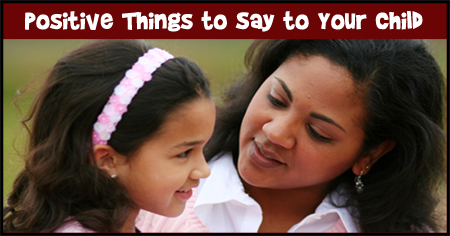 All children feel happy when parents encourage them and say positive words. Positive thinking is great for the entire family. Read to learn more.

Ananya was a very grumpy child who was always angry. Her teacher scolded her in class always and tried telling her to be a little nicer. She was always hurt and had negative feelings. One day, the teacher decided to speak to her parents. It was only then that the teacher realized her mistake. Instead of scolding her all the time, the teacher started being kind to her. She started saying positive things to Ananya instead of belittling her and the results were amazing.
From a negative and non-cooperative child, Ananya became one of the best students in class. That is the power of saying positive things. Learn how to speak positive words to your offspring in order to prepare them for life ahead.
Here are a few tips for parents to help children and be positive with them:-
"You were right"
Instead of always telling kids that they are wrong, why not try bringing out the best in them by saying the above words? It will encourage your child and give them a sense of individuality.
"You are very good"
Telling your children that they are good is very important. It makes them feel happy because ultimately all kids want acceptance, affection and love from their mother and father.
"Thank you for this"
You often expect kids to do their work and perform their duties. We expect them to be thankful towards us. How about the times, when they do something out of the world for us? Don't they also deserve to be
thanked and appreciated
?
"You are amazing"
Telling your kids that they are amazing is a great way to express your liking and fondness for them. Kids love to be helpful all the time and can go out of the way if they are taught proper things in life.
"You did a great job"
If your child has nothing to do and he or she is feeling bored, then you can give them some work to do like tidying the house or helping in the kitchen. Once they listen to you and complete the job, don't forget to tell them what a wonderful job they have done.
"I know you can"
Many times kids are hesitant to take up a new opportunity, because they feel that they cannot do it.
Encourage your kids
by telling them that you have faith and confidence in their abilities.
"You are a great addition to the family"
Parents feel very happy when kids are born to them. Don't forget to tell your kids how much you love them and care for them. Tell them that they are a great and wonderful addition to the family and you feel complete.
"I trust you"
Always tell your kids that you trust them and will do anything for them. Kids feel proud to know that they are important, loved and trusted. They feel valued.
"I know you tried your best"
If your child tries his or her best and yet fails to do something, then you should try to cheer them up. There's always a next time and better opportunities are sure to come by.
"It's okay, we all make mistakes"
Sometimes, kids feel very tense when they make a mistake. In order to improve their
self-esteem
and confidence, we should make them feel better instead of telling them that they are guilty.
"You are doing a great job, don't compare yourself"
Instead of feeling happy, kids may
compare
themselves with others in the class. Tell your children that you care for them and there is no need to feel let down. They are the best in your eyes and nothing can change that.
Last but not the least, tell kids that you are always proud of them and they make you feel blessed. Saying positive things to children motivates them and makes them mature. Hence, you as a parent must go ahead and try to say only good stuff to your children. Focus on your child's positive qualities and habits which will help them to do better in life.
Why is it important to say positive things to children? How to say positive things to children? What is the impact of saying negative things to children? Discuss here.