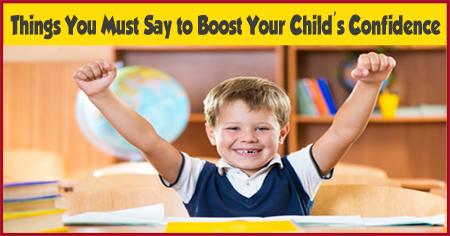 All parents want their children to be happy and successful, but very few know that it is possible only when they boost confidence of their children. Read on to know about the things you should say to boost confidence of your child.

Encouraging young children is important, but while doing this, parents forget how to make kids realize what exactly is celebrating accomplishments. In fact, as they grow, kids start figuring out when their parents exaggerate when it comes to complimenting and this is when they would start ignoring them. You need to be precise and apt when you are
praising
your child's effort or act.
Let us take a look at some things which parents can say to boost the
confidence
of their children.
1. "I understand how you feel now. Let's come up with a plan"
As a parent it is obvious you do not want your child to get hurt, but at the same time it is important for them to know they failed. Remember, it is quite normal to feel sad, angry or anxious. Kids learn by overcoming obstacles in life and the sooner you make them fight for that, more confident they are going to become.
2. "You will make mistakes, but you are a good at heart. I love you."
Children are young and they are not going to think and take decisions like an adult. This is the fact, but this does not mean that you will not let your child try. Let her take decisions. Be with her, support her and if you think your intervention is important, suggest her in positive way. Do not say, "Don't jump to problem solving. Listen to me."
3. "You are a good performer"
Since he or she is your child, anything he or she would do will make you happy. But when parents make flattery
compliments
, kids find the entire world a fake. So, if your child is playing good tennis or is a good dancer, appreciate his or her hard work and tell his or her to follow his or her coach's advices to improve her game or performance.
4. "It's fine to fail. Let's work on improving the subject."
When you see that your child is disappointed or disheartened, instead of saying to look at the brighter side, you need to show him or her understanding. If your child is behind few students in a subject, explain to him or her that everyone learns at his or her own space. Help her improve by spending more time helping her grasp the subject. Do not yell or spank your child if his or her performance is not good. Help your child with his or her
studies
so that he or she performs better.
5. "I will help you learn the skill you are passionate about."
"You should go to guitar class because it is the best these days." Do not try to push your child to do activities you have selected for them. Your child has some natural abilities. Let him or her explore his or her abilities, help him or her do that and then encourage him or her to excel in that specific activity. When a child excels in what he or she likes to do, his or her confidence gets doubled.
6. "Help me unpack groceries or clean the interior"
This is one of the biggest mistakes parents do. Instead you should assign some household chores to your kids. When a child accomplishes something, he or she feels confident about himself or herself.
7. "I became a ... (tell about your profession) because I always wanted to help others in some way or the other"

By giving your example, you help your child to find out what he or she dreams of becoming when he or she will be an adult. Do not worry because often kids forget and get fascinated about different things. The most important thing is that he or she will feel confident and have a goal to achieve always.
Parents usually think that kids would develop confidence with time and with their achievements. However, consider
parenting
easy and fun. Spend time with your child, show your love, care and support unconditionally.
What can parents do to boost confidence of children? Which things should parents say to boost confidence of children? Why should parents avoid praising children excessively? Discuss here.