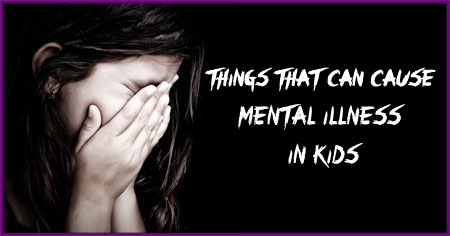 Why do some children suffer from mental illnesses? There are various factors that are responsible for mental illness in kid. Read on to learn about the factors causing mental illness in kids.
Like adult's children are also sufferers of mental health problems and this also include infants. According to research done by American Association of Psychiatry 3 out of 6 children suffer from some kind of mental illness and this has a profound
negative impact
on their daily lives. Children are also 60% less likely to receive treatment for their mental problem as adults often assume that they will outgrow their mental issues naturally.
What Causes Mental Issues and What to Do About It?
The exact reason behind mental problems is not very well known but research has been carried out by many leading institutes towards this end. The supporting evidence shows that a number of factors which include psychological stress, hereditary factors and mental predisposition along with medical reasons lie behind the creation of
mental illness in children
.
Leading psychiatrists say that it is completely the responsibility of the parent to not ignore any instinctive sign that the emotional health of the child is in trouble. In case any symptoms of
depression
or schizophrenia crop up, it is extremely crucial to ask for help from someone who is an expert in psychology of children.
As a parent whenever you see signs like extremes of behaviour, mood swings, reoccurring nightmares, violent tantrums, seeing invisible objects etc in your children you should immediately start maintaining a documented log of these signs. When you go to see a child psychiatrist or counsellor you will be asked specific questions related to the occurrence of these signs, duration of display of symptoms, possible triggers, possible pattern etc. So make sure that you maintain an account of any emotionally disturbing behaviour of your child.
Any sudden change in academic performance or tendency to be withdrawn can also be a sign of mental disturbance and should be treated as such.

Factors Contributing to Mental Illness
Here are common factors that contribute to mental illness in kids.
Emotional Trauma
Children are far more vulnerable than adults and react very badly to abuse of any form. Sexual abuse in children has been seen to cause deep rooted emotional issues which often linger through the entire life. Bed wetting, recurring night mares, change in behaviour patterns are all demonstrative signs of mental problems caused by
sexual abuse
. Physical hurt can cause a child to go into depression or become withdrawn. Emotional shocks like death of a parent or witnessing a negative incident can cause a child to become mentally upset and cause the genesis of mental illness.
Environmental Problems
Constant Negative feedback or verbal abuse from parents or people from authoritative positions cause mental problems in children.
Bullying at school
/confident-child/44_3413/bullying-and-children.html also causes children to become pseudo aggressive, withdrawn and disturbed.
Heredity
Unfortunately many kinds of mental problems run in families and the illness is actually related to some sort of chemical imbalance in the brain which is passed on from parents to their children. There is not much that can be done in these cases apart from taking precautionary measures right from the beginning.
Biological Factors
Mental illness in kids have been linked to dysfunctional functioning of some areas of the brain that are linked to the control of emotions, thinking process, perceptive ability and demonstration of behaviour. Trauma or injury to the head can also lead to drastic changes in the personality and behaviour pattern of kids.
Mental illness in children can occur in a variety of forms and parents are advised to be extremely watchful of the symptoms described above. Even so called normal symptoms like shyness, stress and peculiar eating patterns can develop into mentally disturbed behaviour when they keep occurring very often. In these cases it is advisable to contact a child psychiatrist as soon as possible.
What are the causes of mental illness in kids? How to prevent mental illnesses in kids? How to know if kid is suffering from any mental illness? Discuss here.