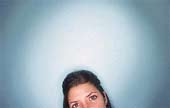 I am just 24 years old, and have started developing wrinkles on my forehead. Can you please suggest a solutionNULL
-
Greeshma
Prevention is no doubt better than cure. Of course, with something like wrinkles, you need to fight a constant prevention battle as they just keep on increasing. Our foreheads, eyes and areas around the mouth are the most susceptible to developing wrinkles. While a laugh line here and there looks charming, a wrinkle on the forehead looks less so, not the least because the permanent frown makes you look like an eternal grouch. So here's what you can do to prevent the premature formation of wrinkles and to essentially delay the process.

Sunglasses
We've said it once, and we're saying it again: wear sunglasses before stepping out in the sun. Sunglasses protect your eyes from UV radiation, look cool, and, as if that wasn't enough reason to wear them, they also prevent you from scrunching up your eyes and forehead in the sun. You may not realize this, but if you happen to be out in the afternoon without a pair of shades, you accelerate the development of wrinkles on your forehead.

Moisturisers
Moisturise your face regularly, even if you have an oily complexion. While applying moisturizer to your forehead, run your hands outward to the sides of your head from the center of your forehead. Do this for a minute, thus giving your forehead a gentle massage and relaxing any tense muscles.

Tape
Often when we are concentrating on a particular task, we tend to frown without realizing it, be it working on the computer, reading a book or newspaper, or even cooking. Discourage yourself from frowning involuntarily by applying a thin tape, horizontally, on your forehead, between your brows, for the duration of the task that causes you to frown.

Cures
Thanks to advances in medicine, cures that do not involve surgery, are not so hard to come by.

Wrinkle reducing creams
The market is flooded with a plethora of creams that claim to reduce and even diminish fine wrinkles. Many of these creams work by plumping out the skin and temporarily reducing wrinkles. Thus, these have temporary effects. In fact, due to this plumping out effect, applying wrinkle reducing creams under your eyes is not recommended. When the skin here gets plumped out, it gets stretched more than needed, and this could even speed up the development of wrinkles in this area. Thus your regular facial moisturizer is too heavy for the delicate undereye area. Thus while applying your nightly cream, avoid direct application to the area just ender your eyes. The undereye area will absorb a small amount of cream, which is sufficient. You could also invest in undereye cream, which is just light enough for this area.

Retinol
Creams containing Retinol, which is essentially Vitamin A, do reduce wrinkles as they work by rejuvenating cells at the lower layers of skin. As Retinol can also be drying and some creams containing Retinol may be too strong, it is safest to apply these creams once in two days, and to alternate with a regular moisturizer. Apply the Retinol cream to your forehead and around your mouth, and rub outwards and upwards with a gentle motion.

Botox
Getting rid of frown lines can take years of your face. While this once meant cosmetic surgery, women now have a better option. All it takes is one quick injection during your lunch break, and poof! That large frown line is history. Botox is in fact used to combat only frown lines, and a treatment is so quick, that it can be done over lunch break. However, the effects are temporary, and a Botox injection needs to be given every few months, with a gap of at least three months. Side effects such as headache, nausea, face pain and others have been known to occur.