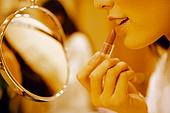 How to pluck the perfect brow, de-puff your eyes, and have skin that looks young and healthy for years to come. Read on for great beauty tips and secrets.



Brows

The perfect arch can make a word of difference to your face, but it is not always easily achievable. Often when we get our brows threaded by different beauticians at a parlour, there is bound to be some variation in the shape. It is important to get your brows threaded or waxed by the same beautician every time, as far as possible. If plucking your brows yourself, be very, very careful that you don't over pluck. It is possible that hair from some places may not grow back, leaving you with a permanent gap in your brows. Try this: take a white eye pencil and colour out the hair you want removed. Once you have a perfect brow shape, you can then start plucking out the coloured portion.

Face powder

Once swab of face powder, and your face will remain oil-free and fresh for a long time. Make sure you carry this with you wherever you go, so if your face gets oily again, you can simply dab on some more face powder. In addition, this can also be used to mask most imperfections in your skin, making it seem smooth and flawless so make sure you're never without this tool. On the other hand, don't forget to wash it off at night.

Eyes

Have your eyes been looking a little tired lately Internationally renowned make-up artist Trish McEvoy's favourite remedy for puffy eyes is to simply place a couple of spoons in the freezer for a few minutes. When the spoons get cold, she places them on the bags of her eyes. Immediately after this, she applies an under-eye cream for an instant moisturizing burst. To brighten eyes, always wear mascara so eyes stand out. Once this is done, try lining the inner lower rim of your eyes with white eyeliner.

Lips

Who wouldn't love to have thick, full lips Always remember that a matte lipstick may make your lips stand out more, but a gloss lipstick makes your lips look fuller and more sensuous. And if getting injected for fuller lips is not an option, stick to glossy lipsticks. The best way to apply lipstick so your lips stand out is to first line your lips with a lip liner. Line just outside your natural lip line. Lining your lips far outside your lip line looks obvious and smutty. After lining your lips, apply a soft, moisture-rich lipstick and follow up with gloss.

Water

The best thing you can do to make your skin look young and healthy is to moisturize it. And we don't just mean moisturize it from the outside, but from within. Drink at least 8 to 10 glasses of water a day to keep your skin looking supple and young. If you have ever worked with models or actresses, you will see that many of them never venture out without packing a bottle of water, and keep sipping through the day. Pair this with regular application of moisturizer, and you're all set.