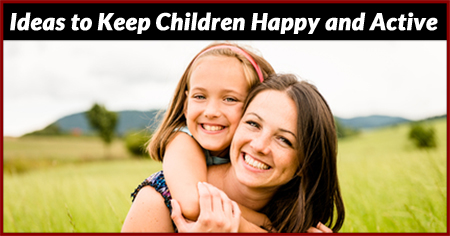 Small children get bored easily. Therefore, in order to help them stay happy and engaged, parents need new ideas. Find out how to help your child stay happy and smiling.
New moms might think that entertaining a small child is the easiest of all jobs. You might think that empty boxes and few
toys
are enough to keep the child smiling and entertained. Well, this happens only when you do not have any experience. Learn how to help your child stay happy and smiling.Small children get bored easily and it sometimes really becomes very difficult to help them stay happy and engaged. Well these are the moments when you need to have some ideas to help your child get busy. This will not only keep your child active, but also let you complete your work. However, if you can
spend time with your kid
it is the best way to keep her engaged and safe as well.
---
In this article
---
Ways to Make Your Children Engaged
Let us take a look at few interesting ways to keep your children engaged and happy.
Hunting
Children like to find hidden things. If your child is still a toddler, you can hide a musical toy or something that can give indications of where it is hidden and then ask your child to rush and get it. Make sure you keep in mind the safety of your child and hide toy in safe place.
Colouring
Little kids love to get messy. You can allow your child to play with paints and colour an image that she might like. Finger painting is also one of the ways in which children love to paint. Make sure that you child, does not put the paints and colours in her mouth. So, supervise her accordingly.
Read Stories
Some children just love to listen to stories. If you do not want to get engaged in
telling stories
the entire day, you should promise one or two story at the moment and stick to your words.
Crafts
There are many
crafts
that are baby friendly and you can easily get them. Small children love to make things out of paper or something else. Try some creative ideas that will not only entertain your child but also make her happy and keep her busy as well. You can also let your child get messed up or play with water if the weather is suitable. These will definitely make your little one extremely happy.
Go Out
Going out is a real fun for little children. You can plan a trip to some open food shop and let your child enjoy the sight of the pizza man making pizza or how the balloons get filled and left in air or may be something else that you can find in your locale. Children enjoy these activities a lot.
Make Plans and Have Fun
It is good to have fun when you plan it accordingly. It can be a story time or going out in the park or if your child is a little bigger, a trip to museum or aquarium would be just right. You will be able to teach your child a lot of things along with having fun time together.
Play Music
Music is a perfect remedy for boredom. Kids love to dance and sing with the music you play. Try to put on your child's favourite music so that she loves everything and has the utmost enjoyment.
Start an Activity
You can make your child busy and happy by starting an activity for which you are sure that your child will join you. Most children are curious and like to do what their parents do.The above tips would be quite helpful for you to keep your little one smiling and will also give you a chance to have some fun time together. Just go with the flow so that you and your child have fulfilling and exciting interactions.
How can parents keep children engaged? How to raise happy kids? How to entertain small children? Discuss here.