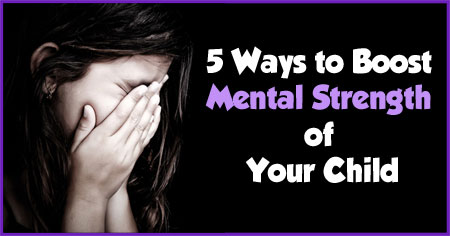 It is necessary to boost mental strength of kids in order to prepare them for facing tough situation in life. Let us take a look at the 5 simple ways to boost mental strength of kids.
Having requisite amount of mental strength is an important element in order to get past the challenges that life throws. In many cases the difference between
success and failure
lies in the amount of
mental strength
in the individual. This is a quality best inculcated in childhood but no child is naturally born with it. It is up to parents to hone children, shape their mentality and make them stronger and more competent individuals. Here are 5 ways to make your kids mentally strong.
1. Not to Be Afraid of Failing
Bad performance is directly connected to an intense fear of failure in many cases. Teach your child not to fear failure but to respect it as a stepping stone to bigger gains in life. Most kids are scared of not meeting expectations, suffering badly due to
peer pressure
, fearing ridicule etc and this creates a lot of pressure on their minds. This pressure ultimately eats away the mental strength of the child leaving him or her weak and vulnerable in the face of failure. Teach your child to regard failure as a stepping stone to success and not a stumbling block.
2. Managing Emotions
One of the most important qualities parents can teach their kids to imbibe is the skill of managing
emotions
. Every person feels the negative qualities of anger, frustration, disappointment etc but it is how those emotions are managed that makes a lot of difference. Mentally strong kids manage their negative emotions without engaging in self destructive behaviour or overt amounts of self pity. Children should be given permission to express their emotions but in a constructive way and this should be taught by parents from an early age. One of the best indicators of mental strength is the ability to be composed under stressful situations.
3. Learning Discipline
The quality of discipline is often looked at in a negative light in today's liberal world but it actually has a lot of importance in constituting the mental strength of a person. A mentally strong child is usually disciplined and has the power to stick to a routine and follow goals even under unfavourable circumstances. Discipline can be taught in simple ways like getting up every morning to exercise even when your kids do not "feel like it". The best way of teaching discipline however is to exert it yourself in your life. Accompany your kids in their morning exercise sessions and they are sure to imbibe this good habit faster.
4. Eliminate Worry
An important part of building mental strength lies in eliminating worry and other petty negative emotions. Childhood is the best phase to teach kids about the fact that not all things lie within the control of an individual and it is a waste of time and energy to worry about the things that lie beyond the locus of control. For example, teach your kids that while preparing well for the exams is within their control; scoring the first position is not within their control so it is needless to worry about it.
5. Be a Pillar of Support
Show your kids that you are always besides them no matter what are the situation and they will automatically feel stronger and more
confident
. There is nothing more reassuring to a child than the unconditional support of a parent. As a parent you need to encourage your children to perform and win but at the same time be besides them even in their darker hours. Your support will automatically give them the confidence and strength to move forward in life without fearing obstacles.Now that you know about the ways in which you can nurture the mental strength of your children, you are sure to better your performance as a parent too.
How to boost mental strength of kids? Why is it necessary to boost mental strength of kids? What can happen if kids are not mentally strong? Discuss here.