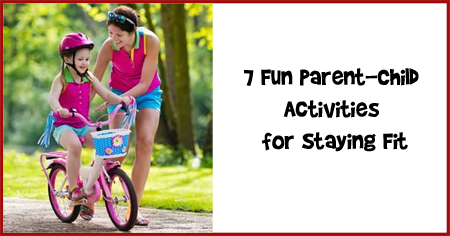 Doing some activities with kids provide a means to a great workout and also quality time to be with the kids for parents. Be a friend to your kid and give your entire body complete workout with these activities.
Kids pop and play with friends without even being aware that they are engaged in a healthy activity. As they grow up they get involved in different activities and fitness takes the back seat often. Even parents can stay fit by involving themselves in kid's activities.
All of us know that exercise is good for heart and health but very few of us are aware of the fact that exercising is good for brain also. If you keep exercising you will feel light and confident and will never feel old no matter what your age is.
However, there are certain children like activities that can help you stay in shape and it is not hard to make your body moving. You can get a fun and interesting way of keeping yourself and your heart healthy.
7 Fun Activities for Staying Fit with Kids
Here are some fun activities which parents and children can do together to stay fit. These are also some fun ways to spend quality time with children.
1. Catch Me
This is one of the most favourite games of small kids. You simply need to ask your preschooler or even a little older kid to catch you. If you are tagged you can do the same thing. Playing this game at least for half an hour will help you reduce a lot of calories.
2. Cycling
If your child is too small you can help her ride her bicycle or run after her cycle to help her get confidence in riding. If she is a bit older, you can go cycling with her in the park or playground. In both the cases you will be able to shred some extra weight and get into shape in some time.
3. Hula Hoop
Hula hoops are colourful hoops that not only appear to be fun freshness for parties, but also help shape your waist, thighs and abdomen. Initially you might not find it easy to work on hula hoops, but gradually you will find this a completely fun activity especially if your child gets involved in it.
4. Hopscotch
Hopscotch is one such game that has gained popularity worldwide. Kids love to play this and if you want to lose some weight and get yourself into shape, you can join this hopping game with your kid. This is a simple game in which you hop or jump while throwing something in spaces in which numbers are drawn on ground. This game will give your legs a good workout and help you keep them in shape. It will also improve your balance.
5. Skipping
Skipping with the rope is a game that young children love to play. This will help you remain in shape and will work out your arms and legs along with other parts of the body. Taking chances with your child will help your heart get rest in between turns as well.
6. Throwing Ball
Though it seems there is not much effort done when you throw a ball, throwing a ball back and forth will not only keep you occupied and make you happy, but also relax your mind and body, improve your coordination and tone your muscles. It is, in fact, great for your entire body. Ask your child and grab a ball to start with.
7. Kick the Ball
Instead of making hard rules, you can simply kick the ball and play with your son or daughter for some time to sweat yourself out. This will give your entire body complete workout and you will also feel relaxed and happy after the game.
Since moms are usually busy they do not get time for workout. With the help of above mentioned kid's activities you can not only get in shape, but also spend some time with your children.
What games can parents play with kids? How can working parents take time out for their kids? What are the benefits of playing games with kids? Discuss here.