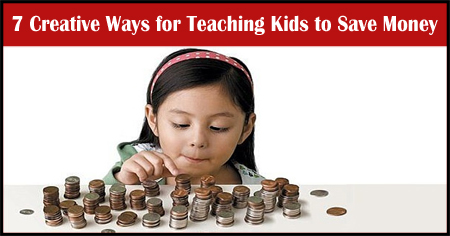 Teaching kids to value money and save it is very important. Read on to find more about the 7 creative ways for teaching kids to save money.


It is important for everyone to be financially independent, irrespective of the age. Kids do not earn, but out of the pocket money that they get every week, they should develop the habit of saving money out of it. It is a part of the responsibility of the parents to motivate their children so that they start saving. Here are some of the strategies given how to teach your child the principles of savings. Have a look at these.
1. Do Not Start Up with Money First
Teaching your children the art of savings should be started as early as possible. If you want to start up with your toddler, to whom the concept of money is not much clearer, then instead of teaching her to
save money,
teach her to save some coupons. For example, say your child loves to watch cartoon on T.V, in order to teach her the matter of saving, give her some coupons at the beginning of every week and exchange some coupons with letting her watch her favourite cartoon.
Fix the number of coupons that are needed for watching each program on T.V. this way she will learn to save. When she grows up, she will learn to save money just as she is savings her coupons now.
2. Model an Example of Saving
Children like to absorb things quickly that they see their parents doing. Show your kids that you also save
money.
Show her your saving jar, where you put all your savings. They will quickly follow you with ease. This way you can teach your kids the good habits of saving.
3. Make Saving a Fun Game
Do not force your kid to save money. Instead make saving a part of a fun game. For example, tell your child, that if she can save a particular amount by the end of the week, she will get a surprise gift. This way your kids will be encouraged to save more.
4. Let Your Child Learn from Mistakes
When you see your child spending all her
pocket money
without thinking, do not rebuke her or lose your temper in front of her. This is a trick to teach your kid a good lesson. If your kid spends all her money, a time will come when she will run short of money and cannot buy things of her choice. She will come to you to ask for extra money for the time being. This is the time to teach your child a very good lesson.
When she asks for money in the middle of the month after spending all her money, never give her any extra money. Let her understand the value of money, so that the next time she goes on a spending spree she will think twice before spending all her pocket money. She will learn to save money for future.
5. Open a Bank Account
When your kid grows up a little to understand the operations of bank, open a savings account in her name or may be a joint account with you taking her as a minor. Tell her to deposit whatever she saves at the end of every month. Show her that if she deposits more she will get some money as interest from the bank which is ultimately profitable at the end of the month.
6. Get Those Exciting Jars or Piggy Banks
To make savings more exciting, get your kids interesting jars preferably of their favourite superheroes. It is a very good idea if you can get them a transparent jar so that they can see their money piling up each day.
7. Avoid Watching Illusive Advertisements
Kids are often tempted to buy certain things which they watch on the television with their pocket money. Teach your kids that those are false selling propaganda which will be useless to spend money on.
Habits of saving money should be imbibed in kids from the early childhood days so that when they grow up they will understand the
value of money.
How to teach children to save money? At what age should parents start giving pocket money to children? What are the ways to teach the value of money to children? Discuss here.