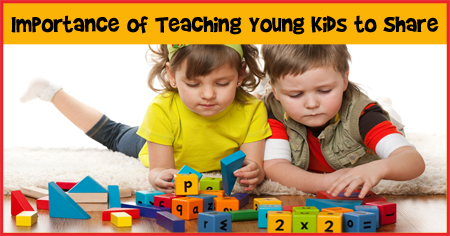 The art of sharing is mastered by the child gradually over a period of time. Read on to know the importance of teaching young kids to share and how to go about it.
Young children are self centred and they tend to want things like food, toys and attention for themselves. Children are not matured enough to show sharing and you should not expect it to come naturally. Therefore, you must teach your child about sharing and what is the importance of that as well.
Every small child has a world of her own and if your child shows such behaviour, do not term it selfish. She is not alone because most of the children have to be taught about
sharing
and caring for others. Although, it will need some level of maturity to get this message conveyed, there are many steps that parents can take to teach their children art of sharing. But before this you will have to show them what sharing is and what the significance of giving out to others is in life.
What is Sharing?
Sharing is often conceptualized as reciprocated enjoyment or communication of an idea or thing. However, sharing is one of the most important aspects in the development of human relationships as well as civilizations also. It is very important you help your children understand sharing from an early age so that you are sure that healthiest, strongest and happiest base is established in your child which is the base that makes human life and society possible.
Significance of Teaching Kids to Sharing
If you want your child to share her toys with her
sibling,
you need to be the role model first. Being a good
role model
will provide plenty of benefits that will be added to your child's behaviour. Let us take a look at the importance of sharing.
Peace is Maintained
If you are able to teach your child the art of sharing, it can help keep peaceful environment in almost all social settings. The opportunity of social interaction is extremely important for the development of all kinds of children. This will make any social interaction of your child peaceful and serene experience for all.
Your child interacts with members of the family only and so you have to start teaching her how to share while she develops and grows within the family. When your child will interact with other children, she will not only share her things with others, but also understand and respect the feelings of others.
Makes your Child Ready for School
Getting ready for school does not only mean that you help your child learn to read and write in school. There are aspects of social behaviour like sharing that has to be taught to the preschoolers along with the academic learning.
If your child has not attended any formal training to get prepared for the school environment, it becomes your responsibility to teach your child everything so that she does not find it difficult to adjust in the new setting.
Development of Understanding in Children
When you teach your child about sharing, she comes to know and understand other people's feelings also. She figures out which of her actions and reactions might hurt or get others annoyed. However, you should not expect your preschooler to behave well and have control over her emotions always. After all she is just a young child and may show childlike attitude some time or other.
The
behaviour
of your child reflects what she would become when she turns to be an adult. If you look around you will find many self-centred adults. The main purpose of teaching your child about sharing is to build in new manners in her. This will take some time and you will have to support your child build positive behaviour.
Why is sharing important? How to teach young kids to share? What are benefits of learning to share? Discuss here.