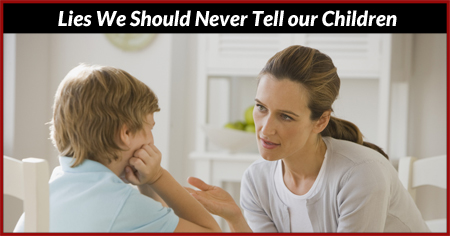 Most often parents tell lies to children to get things done their way. But some lies can create negative impact on the emotional health of children. Here is a list of some lies which parents must never tell their children.
Children have an unshakeable and complete trust on adults whom they look up to. As they are very sensitive and innocent they are unable to comprehend the complications of the real world which may force adults to lie. Whatever be the motivation for uttering lies, it is a fact that there are some lies that parents should never tell their kids.
"Everything is Fine"
There are incidents like the loss of a pet to an accident, demise of a loved relative or some other life altering event which can severely frighten children. Kids can also get scared after looking at the news on the television. Many parents react by saying "everything is fine" when in reality many things have changed. This false sense of assurance strikes kids as a betrayal when they soon understand that things are not going to be the same. Such kids will be less inclined to believe their parents reassurances in the future. Instead of giving false assurances say "this is a bad time for you and it is okay for you to express your negative feelings" or "we will handle this tough situation together".
"I Am Leaving You"
I am leaving you are probably the most disastrous four words you can utter to your child. What makes them worse are that they are a lie parents utter to coerce kids into doing something. Not only do threats of abandonment scare a child it is also unable to address the issue at hand. If your kid is behaving in an inappropriate way do not say things like "I am going to leave you here". Instead say "if you do not stop this behaviour there will be consequences" or "I am going to be very upset if you do not stop this behaviour".
"This is Not Going to Hurt at All"
There are certain procedures like getting a tooth extracted or getting an injection that are bound to be painful. So do not attempt to psychologically protect your kids by saying "this is not going to hurt at all". Your child is going to find out soon that things are going to hurt and they will not trust you the next time you say something. Validate the fear and anxiety your kid is facing by saying "I know you feel upset" or "you look scared and I can understand why". If your kid is going to have a tooth extracted gently guide them through the whole medical process.
"Lying About Death"
Lying about the death of a pet, relative, friend, family member etc is absolutely not recommended. Do not say lies like "grandma has gone to her aunt's place and she will be back in some months". Some kids have unusually sharp memories and they may question you after two months asking about Grandma's whereabouts. When they discover that she is not going to come back at all then they will develop a poor opinion of the person who fabricated such a big lie. A better approach is to let kids know that a person has died due to xyz reasons and while death is a sad event it is a part of life.
"You Are Superior to Others"
While your kid is definitely the apple of your eye proclaiming that he or she is the best person or performer in the world is not a good idea. Either your kid will feel pressurized to ace every competition to keep up to your expectations or will develop an inflated ego; both of which are not healthy. Try expressing your love in a more moderate and restrained way.
While some lies told by parents are meant to soothe and reassure, some are meant to coerce and inject fear into children's minds. Whatever is the motivation stay away from the above mentioned lies if you want to ensure the psychological health of your kids.
What kinds of lies parents must never tell their children? How does telling lies affect children? What are the ways to avoid telling lies to children? Discuss here.