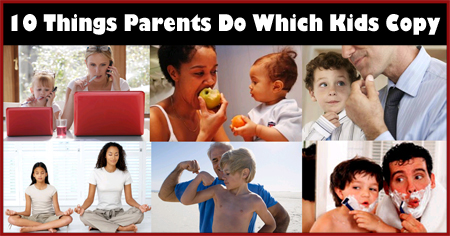 Children love to copy their parents and they do it so perfectly that even you would be surprised. Often it is day-to-day habits that children copy. Read on to learn about the 10 things parents do which kids copy.

Every family has imperfections, lots of good times and hard times and lots of craziness as well. Every kid wants to grow up and become just like his or her father or mother. Kids pick up habits, walking and talking style of their parents and often imitating them is their favourite recreation also.

Things Parents do Which Kids Copy

Learn about the things parents do which are certainly copied by kids.

1. Style of Talking

This is one of the first and most obvious things that kids copy of their parents. You can check out by observing your child talking.

2. Using Phone

Children immediately and even unknowingly copy how you use your phone – your talking style and the time you use to talk. If your child is very young, hand her a toy phone and see how she holds it, talks and reacts, you will come to know how you look like while talking on phone.

3. Your Style of Reaction

If you are surprised to see the way your child is reacting these days, pay attention to the way you show your reaction, or say, irritation. You will get the answer.

4. Over Reacting

If you scream seeing a cockroach or a lizard, control your over reaction because your child will do the same when she sees the cockroach or lizard or whatever it is that you feel scared of.

5. Thinking Attitude

Although amazing, but it is true. Your child will imitate and think exactly the same way you do. So, if you are positive towards problems, it is good. Your child will grow up with a positive attitude. If you have a panicky attitude, it is better you change yourself. It will be good for you also.

6. Procrastination

This habit is one of the most contagious ones and gets carried forward to the next generation automatically. So, next time you postpone doing anything, especially in front of your child, do not get surprised if she behaves the same way.

7. Use of Leisure Time

Children watch their parents very closely and make use of their free time exactly the way their parents do. So, if your child watches TV or wants to spend time in front of the computer often, check your practice.

8. Hard Work

If you are hardworking, your child is definitely going to be one. Hard work will also make her disciplined, believe in herself and value things around her as well.

9. Making Fun of Others

It might seem very casual to you when you were making fun of someone's dressing or behaviour in the mall, but your child is watching you. She will do the same way very soon.

10. Swearing

Many think that children learn different types of languages from outside world. Surprisingly, they learn a lot from their own parents. So, next time you feel like swearing, control yourself.

In addition to the above list, it is seen that children usually mimic the relationship of their parents with religion and one way or another follow the religion and religious attitude without much fuss and hassle.

At the same time, if you listen to your kids, spend time with them and enjoy dinner time together, they will do the same when they grow up. Your kids will come to know the exact amount of joy that a family can provide. So, express gratitude and be mannerly even when you are at home. Your child will have them without effort.

Which things are copied by kids from their parents? What should parents avoid doing in front of kids? Which things should parents always do in front of their kids? Discuss here.