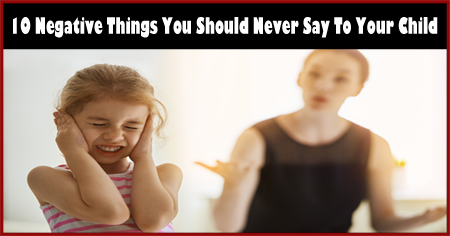 Humiliating children by saying negative phrases to them can cause negative effects on their development. Therefore, it is essential to avoid saying such things frequently to children. Let us take a look at the 10 negative things which you should never say to your children.

Parenting can turn out to be a challenging experience for many first timers. This challenge, along with a huge amount of happiness can also bring frustration for the parents. Well some tackle these issues with careful thought; many quickly lose their calm and adopt a negative attitude that can strain the relationship with their children.
It is important to note that children are quick to pick up from whatever you tell them. Therefore, it is important to choose your words wisely. If you are careless with your expression, your children might reflect your
mistakes
in their actions.
1) "You cannot do it."
Children are capable of performing the extraordinary. While early results may suggest otherwise, there are some children who rise up to the occasion later in life. Do not tell them that they cannot do it, but tell allow them to try new innovative ways to accomplish.
2) "You are not perfect."
Although, nobody in this world is perfect, this is actually a very negative expression to be said to children. Do not
put them down
for their every little mistake. Let them learn from their mistakes and failures. Telling them that they are not perfect all the time is way of harming their self esteem and confidence, which no parent shall wish to do.
3) "You can never do things on your own."
Children can never do things confidently if parents keep saying such things to them. Imposing your assistance over your child may sound cute in the beginning, but is only going to hurt in the long run. Let them make their own mistakes and let them learn. Help should only be there when all doors seem closed, and only after honest and sincere efforts from the child.
4) "You cannot improve."
Yes, children can be restless, and sometimes may demonstrate less hope, but that is not the reason to give up on them. Give them their time and your assistance. Even in rough conditions, giving up is never an option.
5) "Your actions make no difference."
Be it a discussion inside your premises, or a simple conversation while shopping, value the opinions shared by your children. Do not let them interfere in issues that are not relevant to their age, but do not isolate them along with their opinions for no reason.
6) "You always lose"
This is another statement that can create an atmosphere of negativity inside your child's mind. Tell them to value participation more than victory. Making them learn to accept defeat shall go a long way in preparing them for the challenges of life.
7) "You cannot cry."
This is one the most
ridiculous statement
one can ever make to their children. Parents should allow their children, especially boys, to cry. Do not confuse weakness and tears, but let them express themselves, even if it is in the form of tears.
8) "Don't ask so many questions."
Questions and that too consistently, can be irritating at times for parents, especially if they are incapable of answering them. However, this is not the reason for asking them to bind their curiosity. Let them explore the world of ideas through a number of questions. Imagination should be unstoppable.
9) "Learn from your sibling."
Do not
compare your children
to their sibling. Not only this hampers their confidence, but also inserts in them a sense of insecurity and apprehension. Every child is different, even if they are of the same blood, and parents must learn to respect that fact.
10) "You deserve a punishment."
Do not threaten your children by saying that they deserve punishment for the every small mistake they make while taking up a new challenge. Not only it makes them paranoid, but also discourages them, thus leading to less exploration of ideas. Therefore, do not punish your children for every little thing. Be stern, but do not be a hindering force.
So, these are the few things that should not be said to children. Saying such negative phrases frequently can definitely hamper the self esteem and confidence of children. Parenting has many dimensions and it is important to recognize each one of them.
How to talk to children? What are the effects of using negative phrases while talking to children? What are the ill effects of humiliating or insulting children? Discuss here.