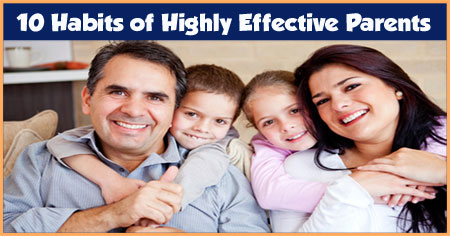 Effective parenting habits can help you to raise happy, well-balanced and successful kids. Read on to learn more about the 10 habits of highly effective parents.
As aptly put across by a famous child psychiatrist; Parenting is no less than a full time job only the both the stakes and rewards are higher!! Children are very sensitive and vulnerable and parents have to make sure that they are nurturing the minds, souls and bodies of their children in the right way. Here are some effective habits that you as a parent can follow to become better at the important role of
parenting
.

1. Create A Routine and Stick to It
Children love to follow certain routines as it gives them a sense of security and belongingness in the family. Create some routines like reading out bed time stories, playing a game together every evening, kissing your children good morning every morning. If you are ever out of town and cannot physically fulfil the routines, make sure that you find out a virtual way of doing it. Doing the same things together every day will create a strong bond.

2. Lead By Example
Children are extremely observant about all the signals emitted by parents and learn better and more effectively by example. So you have to be vigilant as a parent in order to create the right impression on them. If you teach your children that lying is bad but lie on the phone to your boss in front of your kid then they are going to learn a totally different lesson. So if you want your children to develop good habits then make sure you practice those habits yourself.

3. Engage in Non Verbal Communication
Communication and not necessarily only verbal communication creates an aura of safety and comfort for children. Effective parents learn to communicate with their children right from the womb. Talking to the baby bump, singing, patting it etc have all demonstrable psychological benefits for the unborn foetus. Once your children are born develop the habit of caressing,
hugging
, kissing and cuddling them as this will make them feel loved and cared for. Baby talk to them and croon endearments as Psychiatrists say that children who experience a lot of affection and love grow up to be more secure.

4. Read to Your Children
Reading has more than a dozen demonstrable benefits for your children. Once your children are born, read stories aloud from a very early age to make them used to the sound of words. As they start growing older they will learn to connect the sound of your words to the meaning and pictures and develop interest in books. The habit of reading books will help them in their intellectual and professional development.

5. Practice Gratefulness
The habit of living in a highly competitive world has made most people cynical and unsatisfied. It is up to you to ensure that your child does not pick up the bitter habit of cynicism from a tender age.
Effective parents
practice the art of gratefulness every day at bed time when they repeat all that they are grateful for in front of their kids so that they in turn learn how privileged and blessed they are. Simply establishing a routine of gratefulness will help your kids become better humans.

6. Stay in The Loop
Never let work or other commitments take you so far away that you grow distant from what is happening in your child's life. You have to ensure that you know the basic things like what is happening in school, who is your child's best friend, is there any issue in the academic life of your children etc. Make it a point to attend all of the scheduled PTA meetings; they are a source of valuable information about your child.
7. Priorities Family Time
Go on family dinners or
family
movie nights together with the entire family and your kids as they need to learn right from childhood that family is important. Effective parents prioritize family time and make sure that strong bonds are created between children and all family members including grandparents who might be staying with them. In time the structure and the warm bonding of the family unit becomes a support system for the kid.

8. Do Chores Together
One of the primary things effective parents do is to teach their kids responsibility. One of the easiest ways to do this is to ask your kids to do house errands or to help in chores. For example, you can ask your children to help in washing and cleaning up of plates or in dusting the home or watering the plants. This is how they will learn to become more responsible.

9. Inculcate Faith
Faith in religion or God has to be transmitted from parents to kids in order for the concept to register in the minds of kids. In time your children will grow up to be more balanced, spiritually richer individuals who can take correct decisions in life.
10. Talk Every Night
Every night before going to bed talk to your children for at least 10 minutes about how their day went etc. These ten minutes will let you learn the basic things that are going on in your children's life and you will become more aware as a parent. In time this ritual will also enhance
communication
channels between parents and children.
If you follow these ten habits every day you are sure to improve your performance in the critical task of parenting. Remember that these habits will help you as well as your children to become better humans.
Which are the effective parenting habits? How can kids benefit if parent follow effective parenting habits? How to become an effective and successful parent? Discuss here.