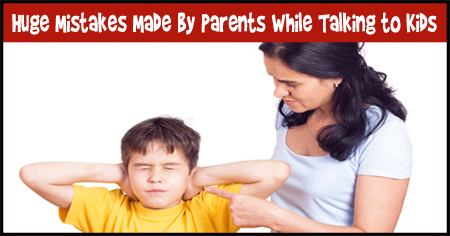 Wrong messages get conveyed to kids if parents make mistakes while talking to them. Here are common communications mistakes which parents should avoid while talking to kids.
Parenthood is probably the most challenging and yet the most rewarding role that you will play in your life. If you are a new parent it is natural for you to feel overwhelmed by the sea of information on
good parenting
that you will inevitably get submerged it. While much of behaviour that makes up good parenting is subjective there are some commonly identified mistakes that construe bad parenting communication. Here are the top mistakes that parents should avoid making while communicating with their children.
Communicating Excessively
Too much of communication specifically one sided talking can have a
negative impact on children
. If you go on and on talking to your children without waiting for them to respond they will tune you out eventually. Research conducted on child sample groups has proved that it is only possible to retain a maximum of 4 fresh ideas in one verbal sitting. If you have to talk to your children about a disciplinary topic or deliver instructions then say what you have to say in a maximum of three minutes. Anything more and your children will tune you out.
Nagging Repeatedly
Children are not born with the inherent sense of responsibility that most adults possess. Therefore, you might find yourself in a situation where there is no option but to nag your kids about mostly everything. However, nagging about the same subject repeatedly will only communicate to your children that there will be always many more reminders in future. When kids know that there will always be reminders then the motivation to accomplish tasks will decrease. The solution is to decrease nagging and give kids more responsibility in a meaningful way.
Emotional Blackmail
Using emotionally manipulative tricks to get work done is a damaging
pattern of behaviour
. While in the adult world this kind of communication may work sometimes (though it is definitely not recommended) while dealing with children it is important to shun this kind of strategy completely. Children are not born with empathy and will not understand your needs and expectations naturally. This definitely does not mean that they should be coerced into doing things by using emotional blackmail. The use of such coercive tactics will only encourage your children to use such tactics themselves when they are older.
Ignoring
Children learn by example and they are quick to catch on to the small verbal and non verbal communication clues left by adults. Not listening to your kids and ignoring them while they talk is a way of telling them that they are not important and what they have to say is of not much value. This is emotionally damaging for children. Also ignoring your kids will pass them the message that it is ok to ignore people when they are talking. Very soon they will start ignoring adults including you when you talk and this is ideally not a situation that you will want to generate.
Lying
Children are smarter than you can think and they are extremely efficient in sensing out half truths and blatant lies.
Lying
to your kids in order to scare them into compliance or getting them to do things with the promise of false rewards are both damaging to the delicate psychology of children. Firstly they will start losing trust in you once they find out that what you are saying is not the truth. Secondly they will get the message that lying is fine and they will start lying too in future. So as far as lies are concerned only stick to Santa Claus and the Tooth Fairy!!
If you avoid these commonly made
communication mistakes
then you are destined to be become a much better parent and a better human being too.
How to talk to kids? Which mistakes do parents make while talking to kids? Why is it important to communicate properly with kids? Discuss here.