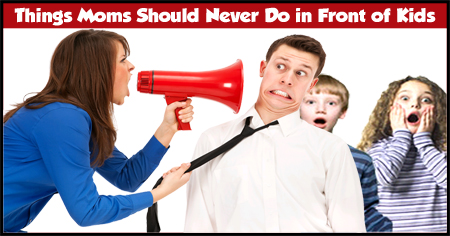 The ways in which parents behave in front of kids deeply affect their growth and development. Read on to know about the 15 things moms should never do in front of kids.
Parents are a great inspiration to their children. Ask any child who is their role model. Majority would say, it's my mom or dad, uncle or aunt. In fact a child does not learn from the time they are 3 or 4 years old. They are silent and keen observers from the day they are in the womb of their mother. Children don't look at parents or learn from parents what they teach; rather they are silent and constant observers and learn what they want to learn.
Children or kids display their perfect choice and get very adamant when it comes to learning from anything around their world. So parents should be conscious of their language, mannerisms and their body language. Children do not generally learn or follow what is taught to them. They are very less inclined to pick up things which are taught in a class room or with utmost
discipline.
They are keen observers and pick up only which fascinates them. They also like to do those things which generally irritate others. Majority kids mimic or replicate elders consciously or subconsciously.
So as a parent one should be very responsible in discharging their duty.
Parenting
is not just a family responsibility; it is also a societal responsibility. This is the biggest challenge every mom should accept and also live up to. There are few things which moms should never do in front of their kids.
15 Things Moms Should Never Do in Front of Kids
Firstly, every parent should remember that their kids understand not what is told, but only what is observed by them.
1. Should never lose their calm
2. Should never preach but practice
3. Should never call wrong as right and right as wrong
4. Should never get too emotional and lose their reasonable thinking capacity
5. Should never hurt a child physically and at any cost never hurt them mentally
6. Should never compare with other kids or peer group
7. Should never appreciate someone so much that it hurts the child or reminds him of his failures
8. Should never call someone and say, he or she is lucky to be born in a rich family
9. Should never say someone that he or she is born in a poor family
10. Should never hurt or scold or ridicule the kids publicly
11. Should never have close or intimate sexual acts in front of the kids
12. Should never view a adult movie or TV programs sitting with your kids
13. Should never insult or talk low of elders in the family
14. Should never undermine great deeds of noble souls and great personalities
15. Should never ridicule the teachers and shatter a role model in their lives
According to the definition of a child, Parents are very powerful people. Kids have their utmost confidence on their parents. Also they develop their courage looking at their own parents. If the parent does not live up to the expectations of the child, they get emotionally disturbed at every stage in their lives. They also lose their direction in their lives. So, as wise parents, it is very important to understand what to do in front of kids and what not to do. Definitely, if every child comes out into this society as a
well mannered
, cultured, disciplined and responsible the credit will surely go to the responsible parents in the society. If not the brunt has to be taken by the same parents, who did every possible wrong things in front of their kids.
A child's
behavioural problems
, anti social personalities, anxious behaviours, anxiety attacks and
temper tantrums
are surely the reflections of wrong parenting methods adopted by the parents in the society.
How can behaviour of parents affect child's development? How to inculcate good behaviour in kids? How should moms behave in front of kids? Discuss here.