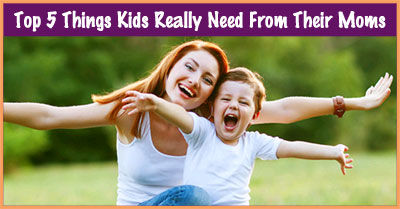 Moms have to rush around and shuttle their children from lessons to practice sessions of extracurricular activities. However, the most important things which every mom needs to do are given least importance. Read on to learn about the top 5 things kids really want from their moms.
As a mother you have to fulfil many duties and responsibilities while raising children. However, in one hand the restrictions and limitations are important and you have to act accordingly because making your child a good and organized individual is your responsibility, after all.
On the other hand, giving love and spending some time exclusively with your child is also your duty so that you cover the other part and help in building your child's overall personality. Have you ever thought which part of you is most liked by your child? Well, here are 5 things kids really want from their
moms
.
Top 5 Things Kids Want From Their Moms
Here are top 5 things which every kids expects from his or her mom.
1. Unlimited Love and Care
Kids want their moms to give them
hugs
and kisses every now and then. They also want their moms to sit with them and talk to them exclusively. This helps them get a chance to share everything with their moms. Along with good and healthy food, children need nurture which they expect from their moms.
2. Reassurance
Kids want their moms to tuck them in bed and say good night by kissing them. They also want moms to sing a song or
tell stories
including their own. Kids want to chat with their moms about everything they did the whole day. Tucking kids in bed makes them feel they are loved and also going to wake up in a secure environment.
For children world seems dangerous and at night when they are tucked in bed by their moms, they know they are safe and secure. They find the same dangerous world, a safe one.
3. Quality and Exclusive Time
Children want their moms to spend quality time exclusively with them. This gives them a feeling of having their moms exclusively for them. Children feel they can trust their moms and this helps them grow and develop relationally. They feel comfortable with reliance. Relationship makes kids have the feeling of belongingness and makes them free from the general feeling of isolation.
Mothers make kids feel wanted and this feeling later gets converted into worth and confidence in relationships. Kids who get proper love and care from their mothers know to express love and understand they are loved.
4. Discipline
Pampering is not the only way to raise well-balanced kids. Inculcating discipline is also an important aspect of parenting. Therefore, moms also need to impose restrictions and establish rules to discipline kids whenever required. It gives them the sense that they are being cared for. Even at times kids feel that they are being stopped a lot, but if you communicate affectionately and explain them the consequences and outcome, they will understand it is your love and care that makes you stop them from doing certain activities.
5. Nutritious Food
Children want their moms to give them nutritious food so that they grow up fit. Children want to grow fit and strong and for this they know they need to eat healthy food. But, they are very well aware that they cannot get nutritious and tasty food without their moms. So, they expect their moms to cook healthy and yummy food for them.
Mother's love helps in
emotional development in kids
. Not only emotionally, but also physically, intellectually and socially so that kids learn and understand that they are loved. This helps them look at life with hope and optimism and gives them healthy development. Since you are a human being you need to keep cool in certain circumstances and pay attention to helping your child rather than expressing your anger.
So, when you wonder what your kids want from you, just understand that kids are wise and see to things much more simply than us. Try to keep things simple and simply shower true love and care. There are very few things kids need in their lives. Focus on their needs, be available for them especially when they need you and do what is needed for their overall development.
Which are the important things which moms should never forget to do? What do kids really like their moms to do? Which are the important activities of moms? Discuss here.