Bladder infection, known as Urinary Tract Infection (UTI), is a bacterial infection in any part of your urinary tract. This is also called cystitis. This causes you to a burning sensation while urinating.
Bladder infection can be in any part of the urinary tract. It starts from the kidneys, where urine is made. It then moves down through tubes called ureters to the bladder, where urine is collected. From here, it moves out through a short tube called urethra that flushes the urine out of the body.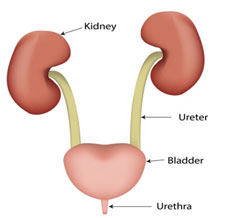 Cause of Bladder Infection
During pregnancy, urine contains more of glucose and it also becomes less acidic. This makes room for bacteria to develop and multiply, making you more prone to get an infection.
Adding to this, as uterus grows; its growing weight puts pressure on the bladder and urethra, thereby, not allowing the bladder to fully drain the urine out. Urine which does not move out causes the infection. This infection may move up and also cause kidney infection, known as pyelonephritis.
There are cases where your urinary tract is infected by bacteria but you do not experience any of the symptoms mentioned. This state is called asymptomatic bacteriuria. If this is not treated during pregnancy, it can lead to kidney infection, premature delivery and low birth weight. Therefore, physicians advise you to get urine test done regularly.
Symptoms of Bladder Infection
Pain, uneasiness, burning or discomfort while urinating
Frequent, uncontrollable or an urgent need to urinate
Difficulty to urinate
Pain, discomfort or cramps in the lower abdomen
Foul smell or cloudy urine
Blood in the urine
Low temperature fever, chills, or sweating
Increase or decrease in the quantity of urine
Kidney infection also has similar symptoms, such as high fever, pain in lower abdomen or under the ribs, blood in urine, nausea or vomiting. If you experience any such symptoms, you should immediately contact your physician.
Consequence of having a Bladder Infection

Bladder infection or "Asymptomatic Bacteriuria" if untreated can lead to several complications.
Life Threatening - UTIs in bladder can move up the urinary tract and cause kidney infection. This infection may get into your blood and can be threatening for your life.
Risk of Foetal Mortality - It also causes complications for the baby. Due to infection, the woman may have to go for a premature delivery, which may result in the baby being under weight at the time of birth. Low weight increases the risk of baby mortality.
Treatment for Bladder Infection
The doctor will get your urine tested regularly during
pregnancy
. If the result is negative, there are very less chances you may get an infection in your later trimesters during pregnancy. If the result is positive, your doctor will give you some antibiotics that are safe to take during pregnancy. After the course of antibiotics, your urine will again be tested to check if the infection has been cleared or not. If the infection comes back, your doctor may again treat you with antibiotics. However, please do not take any medicines without consulting your doctor as
self-medication
can be harmful.
If you develop kidney infection, you may get hospitalised and observed very cautiously. They will put you on intravenous fluid and antibiotics. They will track your blood pressure, pulse, breath, temperature, urine and check if you have any signs of premature delivery. They will also track your baby's heart rate regularly. After the treatment, your doctor will put you on low dose of antibiotics for the rest of your pregnancy period.

Prevention of Bladder Infection
Drink ample amount of water
Urinate as soon as you sense the feel to urinate
Empty the bladder completely when you urinate. However, do not put too much of pressure.
Keep your genital area clean by wiping or washing away after urination and bowel movement.
Pee and clean your genital area before and after sex.
Avoid having sex when you are being treated for the infection.
Wear cotton and lose underwear.
Avoid strong feminine products, such as deodorants and soaps in your genital area
Take shower instead of a soak bath.

UTIs are more common during pregnancy. However, during pregnancy it would be difficult to judge if it is bladder infection because pregnancy causes you to
urinate frequently
. If you feel like you have UTI, check with your doctor to get proper medication immediately.