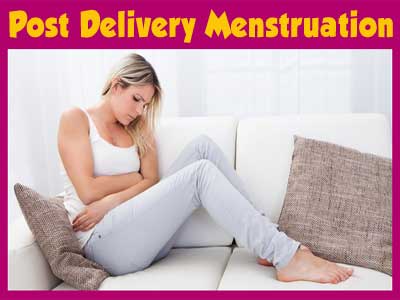 Irregular periods post delivery are common but should not be taken lightly if persists even after few months. Here is what first time mothers should know about postpartum bleeding.

During pregnancy you do not get your regular periods. But post delivery the periods resume, albeit in a different manner for each woman as each one has her system coping differently with the pregnancy and delivery stages. After childbirth the menstrual cycle usually do not commence as it used to be before you got pregnant. There are cases where the woman experience a significant change in their menstrual flow, where the periods become either heavier or lighter. So you need to consult your doctor and allow your body to take time as it steadily gets back into shape.

What is the Bleeding all About Then?
Women, especially first time mothers get confused that the postpartum bleeding marks the onset of periods. Generally after giving birth, the bleeding may continue to up to even six weeks. We need to understand the reason behind this occurrence. Your uterus had extended and stretched in order to accommodate the child. Now after delivery, it slowly shrinks back to its earlier size and shape. So the thick uterine lining that was created in order to protect the baby in the womb has to shed. As a result bleeding takes place. For about four days or a week or so, the bleeding is very bright red in colour, and by the following week, it turns pink to brown. After about a couple of weeks, you will find it to be of a light cream colour, and then a yellowish discharge will take over and continue for the next four to five weeks.

Irregular Periods
The onset of periods is usually three to four months after delivery. There can be some hormonal imbalance factor working that cause irregular periods at the initial stage and this needs to be reported to the doctor and clinically treated accordingly. At first, the periods would be very heavy and irregular. Periods occur due to ovulation, where the egg is released from the ovary. Now this process can commence just after 27 days after the delivery, that is, if you are not absolutely breastfeeding your baby. But if you are nursing your child, there will be a change in the hormonal constitution that will cause to suppress the ovulation process. So periods can be stalled by up to six months with regular breastfeeding.

How Do you Know?
After you have stopped nursing the baby, you will find that the periods have resumed, at first quite irregular and very heavy. Then with medication, if necessary, that is sure to be decided by your physician, you will steadily get back to your normal menstrual cycle. But if the problem of irregularity and heavy bleeding persists even after a couple of months, then it ought to be taken seriously.
You need to be very careful and patient with your body, as it strives back to normalcy. There will be a host of hormonal changes that will adversely impact at times, but they need to be treated. Besides, you need to report every minute change you notice postpartum. Remember to abstain from oral contraceptives when you are breastfeeding. Remember, absent or irregular periods are signs that the uterine lining and the remainder placenta has not passed fully, so appropriate measures have to be taken for it.

What is normal postpartum bleeding? What is the cause of irregular periods in initial months after delivery? What does absence of or irregular periods indicate? Discuss here.