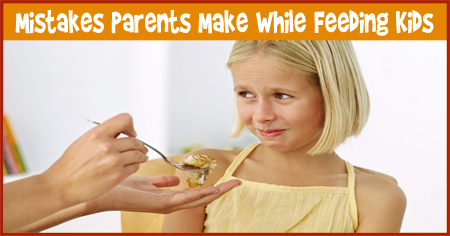 Unhealthy eating habits may develop in kids due to feeding mistakes made by parents. Therefore, parents must correct these mistakes on time. Here are some of the common mistakes which parents make while feeding kids.

Parents often commit mistakes while feeding their kids. From bribing kids to throwing tantrums just to make their kids love the food, it all takes a great effort and patience on the part of the parents. For a healthy diet for their kids, parents go to any extent, from consulting doctors to taking suggestions from the elders of the family.
But there still remain some shortcomings on the part of the parents. Here some
common feeding mistakes
are given which the parents often make.
Offering Too Many Snacks
In order to pacify the kids, some parents give too much of
snacks
to their kids just to divert their attention. Every time they give their kids something or the other to munch on. This may save you for the time being but in the long run you are practising a wrong diet. Giving too much of snacks before meal mars the hunger of the kids and eventually they end up skipping meals.
Prioritising Food
If your kid does not like veggies, and you have to bribe her every time with a sweet to make her eat
vegetables
, this is a very wrong practice. Doing this will only mean to him that vegetable is not at all a good thing and that is why it requires a good thing to eat it with.
Forcing Kids to Eat
Never
force your child
to finish her plate at meals. If she does not want to eat, that means she is full. Do not pressurise her to eat more. Still being a mother if you feel that your kid is hungry; insist her to eat when she is in good mood.
Providing Alternative Meal
Do not pamper your kids by providing them alternative meals. If she does not want to eat something that is being served as dinner, be strict and ask her to eat that only. If still she does not listen, let her go to bed hungry. But if you provide her with alternative meals, it will become a habit and every time she will ask for some alternative yummy foods.
Restricting Kids Too Much
Restricting your kids every time they want to eat something will increase their curiosity and desire for eating that thing. They will eventually manage to find ways to have those foods. So it is better not to restrict them too much. But it is necessary to control overeating in them. You can allow your kids to eat
junk food
once in a while.
Not Being Considerate
Be considerate when your child complains about some foods being too much spicy. The foods that appear tasteless to you may appear too much spicy to them. So remember her choices and rectify it the next time you are preparing food for her.
Always Serving Boring Foods
It is a common problem with almost every kid that they do not like vegetables at all. But vegetables should be there in the meals. So try to make the vegetables yummy by adding different natural flavours to it. Or you can also make vegetable paranthas and serve them with tomato ketchup to make it interesting.
Not Having Meals Together
Most parents in order to save time first feed their kids and then sit for having meals themselves. This is a very wrong practise as you are depriving your kids from the interactions that are made when you sit for lunch or dinner together.
Not Trying Even After Rejection
When your kid rejects some food, do not give up so easily. Instead insist her for tasting the food once more, because you never know when your kids will start liking the very same food which she had rejected once.
Not Involving Children in Cooking
Involving children while you are preparing meals creates an urge in them to try out new foods which they had assisted you to make. So do not ignore her if she shows up interest at the kitchen.
These are very common mistakes that parents often do. So the next time you face such situations remember the above mentioned points and feeding will not seem to be much difficult to you.

Which are the common feeding mistakes made by parents? How can parents avoid feeding mistakes? How are poor eating habits developed in kids? Discuss here.