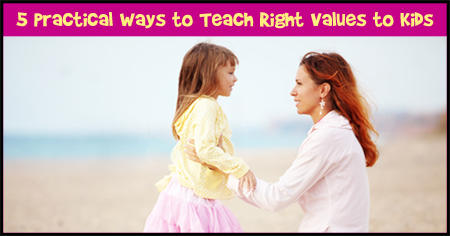 Good values are followed by a person if such values are instilled in him or her during childhood. Therefore, it is essential to teach right values right from early childhood. Follow these 5 practical ways to cultivate right values in your kids.


Teaching kids the right values and morals of life may sound to be a difficult task, but is not – only if you know the right ways. Respect, perseverance,
honesty
, courage, kindness, self-discipline, generosity, compassion, dependability – all these values could be instilled in your kids if you choose the practical ways to teach them. Let us see how you can carry out your responsibilities in doing that.

1. Model the Right Behaviours
Children do not care much of what you interact with others, but what you do with others, how you behave with them, how to present yourself, how you do things – kids tend to look up to you. It is always important to lead by example. Do not expect your children to do as you say, as they will mostly do as you do. Thus, to instil the
values
like modesty,
compassion
, and honesty, you should be the first person to be modest, caring, and honest. If you eat healthy food regularly and do exercise, your children will follow you too. It all starts from you, so do not fail to be the one like whom you want your kid to be in future.

2. Listen and Communicate
You should be a good listener and listen to your kids' thoughts and ideas. Allow them to express what they want – never judge them in between a conversation. This may prevent them to express independently or freely in future. Later, discuss what you thought about their ideas. Communication is the key. Talk, talk, and
talk a lot with your kids
. The more you listen to them, the more you discuss with them – the more they get to learn the difference between right and wrong.

3. Use Everyday Experiences for Conversations
Something or the other incident happens almost every day with the help of which you can teach your kids about values. Whether it could be news of a heroic deed from the newspaper, or it could be a shameful deed by someone over the news – you can always ask your children what they would have done had they been in the situation of the hero or the other bad person in the news. Correct them if they are thinking in a wrong direction. These make great on-the-spot lessons.

4. Apologize When you Make Mistakes
Never treat their mistakes to be a sin and your mistakes to be casual – the consequences should be the same. You should acknowledge your
mistake
, and you also need to tell them how sorry you feel for what you have done or happened. This teaches them respect and to give importance to the other person's thoughts, perspectives and feelings they also learn that you are responsible for your own mistakes and how you accept them and make sure of correcting them and not repeating them.

5. Share Your Personal Experiences
You can always look back at your past and share stories from your own experiences to teach your children some valuable lesson. It is very important to show them how you made choices in your life that were consistent with good values. You can share your story of how you stood up for your choice instead of going along with the crowd, or how you achieved a particular goal, or any motivational and inspiring story of yours, which they can connect to in their regular life.
Teaching values take time; outside world like social media, television, movies, music, video games, etc. have a greater effect on your children; there is always a peer pressure – but in spite of these, you can follow the above mentioned practical ways to teach right values to your children. This will not only protect them from potentially negative societal influences, but also lay the basis for them to become good citizens.
Which values should be cultivated in kids right from early childhood? Why is it important to instil right values in kids? How to inculcate right values in kids? Discuss here.