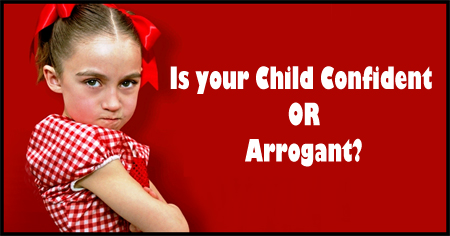 Boosting confidence of children is essential to help them excel in life. However, overconfidence can get transformed into arrogance. Read on to learn about the difference between development of confidence and arrogance in children.

There is a positive and negative side to everything. Similarly, there is a fine line between confidence and arrogance. If you are a parent, what is most important is raising your child right. They need to know the difference between confidence and arrogance. Even though both these personalities almost run on the same plane they are not hard to be recognized if that is what you are worried about.
If your child happens to be naturally gifted or is a fast learner, it is a matter of great pride. But teaching them humility is what matters. They should be taught to be proud, yet humble. Showering them with
compliments
all the time will not only make them
overconfident
about their abilities, but also enable them to develop an air of arrogance around them.
There will come a time when your children will leave you and take their matters in their own hands, go to college, get jobs and finally become independent. But if you raise them to be arrogant, they will carry that with them and in turn face innumerable difficulties in their lives. Here are a few ways to notice if your child is confident or arrogant.

1. Dealing with Failure
They say failure is the stepping stone to success. A confident child will be well aware of that. If your child is confident, he or she will deal with failure with a smile on his or her face. However, if he or she happens to be arrogant, he or she will be self critical about their mistakes and may feel personal shame. Care should be taken if you notice this in your child. Do not encourage this behavior at any cost.
2. Competitiveness
Our world is ruled with competition. You need to be the best to succeed. However, if your child is confident, he or she will treat others with more compassion. But when it comes to arrogant kids, they will treat others as their rivals who pose a threat. They will always want to stand out at all times no matter what it costs.

3. Ability to Work as a Team
Confidence in your child will help him or her be better at team work because they do not care about standing out themselves but making the team successful as a whole. However, arrogant children will want to contribute more only to be given the most credit among all his team members.
If this behaviour is encouraged, they are most likely to face major problems in their professional lives when they grow up. They will not welcome opinions and ideas of their team members and ignore them.

4. Self Satisfaction
Confident kids will be happy with what they achieve no matter what others say. They decide for themselves when they have succeeded and not need second opinions. However, when it comes to arrogant kids, they are never satisfied with whatever they achieve and always need someone elseā€™s approval. Even that is not enough most of the times. They are always on the lookout for achieving more.
5.Supportiveness
A confident child will always support others and help them even if they are not to achieve anything out of the venture. If a team member is having difficulties, they are willing to go out of their way to help them. However, an arrogant child is more destructive. He or she is even willing to hurt someone to achieve
success
.
Children are the future and if not raised right, the future might be in jeopardy. Every child counts, even yours and they have what it takes to make a difference. Too much of arrogance will lead them nowhere when they grow up. Confidence acts like building blocks in oneā€™s life. Confidence helps you smile more, unlike arrogance. The only facial expression that you can associate with the word ā€œarroganceā€ is frowning. Being confident will help your child keep his or her head held high at all times and smile his or her way through failure ultimately leading to his success.

Can overconfidence get transformed into arrogance? How to prevent arrogance in children? What are the ways to deal with arrogant children? Discuss here.