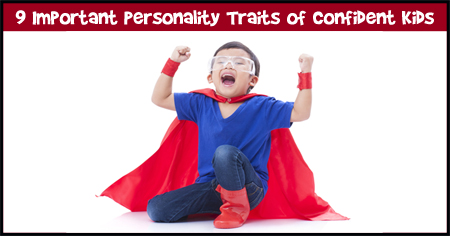 For raising confident kids it is necessary for parents to be aware of the qualities which they must inculcate in their kids. Let us have a look at the top 10 important traits or characteristics of extremely confident kids.

Confidence is the key to success is something that has been preached by self help books and psychiatrists since ages. And when confidence is inculcated from a young age, life becomes full of the promise of
success
. There are some kids who are blessedly confident about themselves and go about life in a happier way. Here are some of their traits.

1. Self Belief
Confident kids
are high on self belief and a large part of the credit goes to the way their parents raise them. A kid with self belief will never be afraid of giving a difficult task a shot because he or she knows that it is achievable. As a parent it is easy for you to understand how this can translate into better
self confidence
and better chances of success both in the personal as well as professional sphere.
Self belief is something that can be inculcated in a child by repeatedly reassuring the fact that all difficult tasks are achievable. Never ever tell your child that he or she is not capable of doing something.
2. Responsiveness
Responsiveness is again central to
confidence
as only a child who can respond appropriately to situations will go on to gain confidence in his or her abilities. Parents can contribute in a big way by observing children sensitively from a young age and responding to cries and changes in expression. Teaching your child to communicate his or her care needs in a verbal or non verbal way will go a long way in nurturing responsiveness.

3. Feeling of Security
Children need security in a very basic primitive way. They need to know that their parents love each other, are committed to each other and are capable of building and maintaining a stable home. The first thing which you and your spouse can do as parents is to strengthen your relationship as a couple. Give your child the impression that home will always be a loving and warm place and automatically your child will feel secure and confident.

4. Good Social Skills
Peer interaction is one of the most significant parts of childhood. A kid needs to have friends of approximately the same age group as communication and interaction develops the brain. Playing with other kids will also sow the seeds of early social skills; build verbal and non verbal communication ability. Moreover the habit of successful and fun interactions with friends will also boost self confidence in children. As a parent you should always encourage your children to make friends.

5. Physical Fitness
A lot of modern day parents place undue and exclusive importance on academics and neglect the importance of physical activity completely when it comes to their kids. Psychiatrists say that development of appropriate levels of self confidence is linked with fitness and body image. Happy and confident kids are generally satisfied with their physical appearance and fitness levels. Encourage your kid to go out with friends, engage in outdoor sports and exercise moderately. This will contribute in a big way to building self confidence.

6. Feeling of Being Loved
Children are more sensitive to the demonstration (or lack of it) of physical affection from parents. Confident kids are high on cuddles, kisses and hugs that are showered on them from childhood and as a result they have the inner confidence that they are worthy of receiving love. Feeling loved is one of the basic psychological needs that kids have and as a parent remember to demonstrate often and regularly the immense love that you hold for your children.

7. Hard Working
Confident kids recognize the value and importance of effort. They are aware of the fact that anything worth getting is worth working hard for. These kids have strived hard for getting good marks, scoring well in tournaments, getting prizes in debates or performing well in any sphere. Teach your kids the value and need of hard work as this quality will help them develop true confidence.

8. Positive Re-Enforcement
Confident kids are not born that way. Their confidence is a result of someone repeatedly telling them that their efforts are paying off and they are doing things right. Positive feedback from a parent at situations when it is genuinely deserved creates a lot of difference to kids.
Praise your children
in a genuine yet subtle way about the things that they are doing right. Your encouragement will urge them to work harder towards their goals and ultimately build their confidence.

9. Not Afraid of Failure
Nobody succeeds 100% of the time and confident kids know this very well. Your children should be taught from a young age that success and failure are both a part of the game. Do not push your child into wanting success so badly that the first taste of failure destroys the fragile self confidence.
Confident kids know that success is only one more effort away and therefore, do not get discouraged by failures.
Why is it important for kids to be confident to succeed in life? How to raise confident kids? Which qualities should be cultivated in kids to boost their confidence? Discuss here.