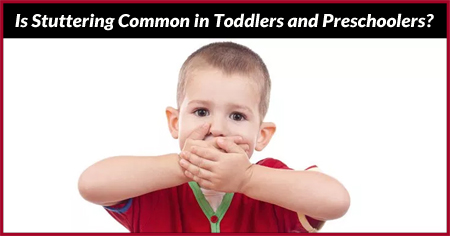 Stuttering is a common developmental concern among small children. Here is how you can help your child overcome stuttering or stammering problem.



Many children between the age of 2 and 5 suffer from stuttering. Although, stuttering is pretty common among preschoolers, there are certain specifications that can tell you that your child needs professional help to improve her
speech
.
The mind of a toddler constantly buzzes with a variety of things. This is the time when the toddler is learning to convert her thoughts into intelligible sounds and understandable words and sentences. It is quite natural that she will make mistakes and this becomes all the more evident when she is tired, upset or excited. Well, these missteps are often normal and the child outgrows it gradually.
What is Stuttering?

Stuttering is a form of dysfluency in which the flow of speech is interrupted. It is sometimes called
stammering
also. Although anyone can stammer at any age, it is common among young children because they are learning to make words and form sentences. Even though stuttering sometimes seems severe, it is not necessary that it will be a lifelong problem.
Causes of Stuttering

Let us take a look at some of the common causes of stuttering in children.
Family History
- Although, it has not been proved that stuttering is genetic, it has been observed that most of the children stutter if someone in the family has suffered from this problem sometime in life.
Developmental Issues
- If the child has other developmental issues, she can suffer from stuttering or stammering.
Environmental Factors
- If the parents have high expectations and a high paced lifestyle, the child is likely to stutter.
Inherited Brain Abnormalities
- Stuttering occurs if there are genetic abnormalities in the
language
centers of brain. This problem also affects the contact between the brain and the muscles that control speech.
Brain Injury
- Stuttering can occur after a brain injury, stroke or trauma.
High Speed of Speech
- When young children are still learning and they try to speak very fast, they stutter.
Increased Activity Level
– Some children are hyper active and this causes them to stutter most often.
It has been observed that stuttering is often as a result of either physical or emotional trauma.
When to Seek Help?

If your child is more than 5 years of age and still suffers from stuttering you should talk to your pediatrician. You should also contact a
speech therapist
if your child:
Repeats whole words and phrases almost every time she speaks


Repetition of sounds and syllables become frequent


Seems tensed or moves her body or face when speaking


Speaks words which are difficult to understand


Changes a word because she fears to stutter


Avoid situations where she might have to talk


Has other developmental problems
Tips for Parents to Help the Stuttering Child

Here is how parents can help children coping with stuttering problem.
Allow your child to consider speaking as fun and enjoyable.


Do not correct your child while speaking each time.


Use family meals as conversation time and avoid watching TV while eating


Do not interrupt your child when speaking or ask her to speak again


Make the environment inside the house calm.


Do not look away or look upset when your child stutters.


Model talking slowly. This will make your child slow down her pace and she will try to speak clearly.


Avoid corrections or criticism when your child is speaking. This makes the child more self-conscious which worsens the problem.
If the problem continues you can contact a speech therapist who will suggest some effective ways to help your child improve her speech. These will make you help your child relax and find her voice as well.
Why do some kids stutter? How can parents help a child who is stammering? Is it possible for children to overcome stammering completely? Discuss here.