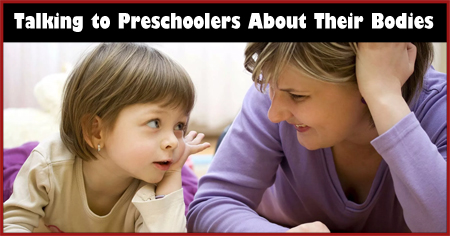 Talking to children about their bodies is an important aspect of healthy child development. Here is how to help children to be responsible about their private parts by talking to them in an age-appropriate manner.

Parents of preschoolers assume that sexual development of their children will not begin so soon. But in fact, such type of development beings during the early growth years. As they grow, they develop emotional and physical base for their bodies in many understated ways. You as a parent must surely make a note of how you can raise sexually healthy child.
Though infants and preschoolers are considered very young for any kind of talk related to sexuality, if parents understand how kids grow and learn, they can help their children grow emotionally and physically healthy.
Curiosity about Private Parts

Babies start understanding emotional attachments when they come in physical contact with their parents while
hugging
, kissing and when they are tickled. These activities allow babies to experience comforting and positive physical sensations. Most children like to play with their genitals during diaper change and many like to stay naked.
However, all these things are normal and the curiosity of the children about their body part is absolutely normal. The way you react including your tone, voice and facial expressions are the first lessons for your children about their bodies. So, it is advisable not to respond with anger or surprise or even with disapproving words.
By the time children enter the age of a preschooler, they well aware of their gender. They develop a strong feeling about their gender and have a lot of questions regarding the opposite one.
Parents
need to react and respond sensibly and it is not a good idea to scold them when they touch their body parts because this will lead them to the state of guilt and shame.
Preschoolers are old enough to understand that some things are not intended to be discussed in public and they will hold their questions back.
Tips on How to Talk to Children about their Bodies

Take a quick look at the tips on talking to children about their bodies.
Appreciate
When children asks any kind of question that is related to private parts, instead of
scolding
or ignoring, you should appreciate them because this shows that your children are comfortable enough to talk to you about their private parts.
Introduce
It is good not to wait for your children to raise the questions instead you can introduce the topic and start the conversation. Depending on the nature of your child you can add up the subject little by little. Begin with teaching them that it is not good to touch private parts in front of everyone.
Teach About Good and Bad Touch

The most important aspect of sex education that you need to teach your child is to identify the difference between good and bad touch. Tell them that no one should touch their private parts except for their
mother
. Also, if someone tries to do so, they should immediately inform their mother.
Stick to the Truth

It is good to be honest with your child. So, if you do not know the answer to your child's question, say so. Give your child the right answer in the best possible way.
Accept Reality
As a parent it is quite natural to feel uncomfortable talking to your children about their private parts. Accept it in front of your children and tell them that you are talking on the subject because it is important.
Be a Good Listener
Though uncomfortable, try hard to know about your children's concern regarding the subject. Even if you find children's talk about their crush senseless, you should listen to them. This will make them open to you and will help them in taking decisions in making relationships later.
Explain Family Values
The most important thing that you can do is share your family values with your child. This will convey the right message you want to convey to your child.
Talk to Your Child
No matter whether you have a son or daughter, you should educate both of them about their bodies.
Always keep your tone stable and talk positive. Be sure that you talk to your children about their private parts in a healthy and positive manner so that they understand how to be responsible about their private parts.
When should parents speak to their kids about their private parts? How can parents overcome the discomfort related to talking about private parts? How should parents talk to preschoolers about their bodies? Discuss here.