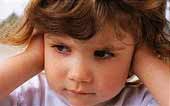 Children are very moody.Parents have to deal with them with patience.

While leaders of the world convene to discuss terrorists like Saddam and Osama, I have my hands full with my own little terrorist at home. I have been following the 'war on terrorism' closely, hoping that it would give me some ideas on how to deal with the coercion, manipulation and guerilla warfare I face on a daily basis.
At first I tried to impose sanctions. "Kaavya, "I said sternly shaking a finger in front of her. "If you don't finish your khichdi, I won't give you any chocolates. No chocolates, no park in the evening."
I was met with a sudden burst of khichdi fire and a spoon of gooey stuff was lobbed with deadly accuracy on to my shirt."
"That's it. No more chocolates. Ever. Mummy is not going to talk to you." I marched off from the table to the sound of gleeful chortling. She was unmoved and continued to create modern art on her bib and the table.
It was my fault. How could someone with a 70-word vocabulary and barely 21 months of existence understand the implications of sanctions when many Presidents and Generals have failed to do so?
I decided to consult a veteran who I thought had several years of experience in the field. " Ma" I wailed on the phone. "She refuses to eat anything, makes a huge fuss for a bath and insists on being taken "Ta-ta" at 12 noon in the blazing hot sun. I don't have a minute to myself. She snatches the newspaper from my hand and demands that I instantly transform into a horse and take her for a ride."
"Heh, Heh," sniggered my mother gleefully. "When you were her age, I had to chase you around the table 10 times, 15 times, before you sat in one place for any meal. You used to throw your plate out of the window and once even hit Pushpa Aunty, who was walking below, with it. You used to insist on taking your four dolls, 2 teddy bears and one raggedy towel everywhere we went"
Something had to be done, and soon. A few days ago, I discovered that my terrorist had a huge arsenal of Weapons of Mass Destruction (WMD) which could be instantly unleashed. Kaavya was trying to discover the secrets of GSM technology by banging my cell phone repeatedly on the floor. Time for a preemptive strike, I thought. I snatched it away from her before she could inflict any more damage.
Immediately she launched a chemical and biological offensive. Her eyes filled up with tears, her little puckered up face turned a fiery shade of red and the most ear-splitting screams rent the air. She threw herself at my legs and shrieked "Gimme - phone!" over and over again for 10 minutes leaving me shell-shocked and paralyzed.
I tried to find succor in my support group and gathered a coalition of willing mothers who had more experience than me. Meera, harassed victim of two notorious terrorists scoffed at my predicament. "This is nothing," she said. "Girls are so much more easier to handle. In spite of telling them about a hundred times, my boys were playing cricket in the house yesterday. The younger one hit a shot right into my glass cabinet and smashed most of my crystal into pieces." Now that's what I call bombardment.
I realized that it could only get worse. I had to act now to prevent more devastating attacks in the future.
I consulted my Chief of Staff on the issue. He first advocated the 'iron hand in velvet glove' approach. "You have to show that you are the boss, or she'll just take you for granted."
"That's easy for you to say." I retorted.
"Well, you have done pretty well with me." he smiled.
"Humph! Try looking after her for one day. To think I gave up my career for this. My brain has atrophied after watching the Winnie the Pooh VCD for the forty seventh time and my stomach is protesting after a constant diet of leftover khichdi and mashed bananas."
"What are you going to do?"
"No more Nice Mom. I don't believe in this appeasement policy anymore.
Next time, I will follow the Powell doctrine. A good hard spanking is what she needs."
"We agreed that we wouldn't use force," said my husband.
"I know. But she is becoming too stubborn. Only Shock and Awe tactics can coerce her into submission. I refuse to be bullied by a two foot imp."
Just then, the two-foot imp scampered into the room and insisted on being lifted up. I held her against me, smelt that sweet Johnson's Baby powder smell and felt a little wet kiss on my face. "Mummy, labboo," she crooned. " Time for a I love you too, baby," I smiled.
Once again, I had been disarmed. My war against terrorism would have to wait.