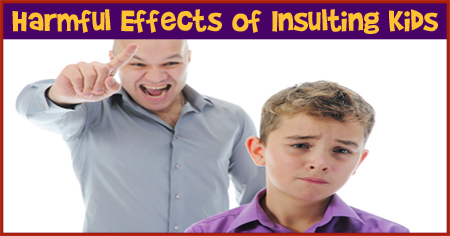 Insulting kids can deeply affect their self esteem and may give rise to issues like depression. Read on to learn about the effects of insulting kids in front of others.
Children do not understand the reason behind their parent's rebuke. Sometimes they feel unwanted and the thought of "nobody loves me", revolves around their head. So when you are scolding your child make sure that she understands the reason behind your reprimand.
Rebuking your child is not the only solution on hand. Too much scolding can have negative effects on the child. And rebuking kids in front of others is a strict no-no. Read on to know how publicly scolding kids, can have adverse effect on them.
Hurts Their Ego
Kids are more ego conscious than adults. If they are embarrassed in front of the front of others, it hurts their ego which can prove to be very fatal. An egoistic child can go to any extent if they are insulted.
Depression
Studies have found that those kids who are often insulted by their parents and are made target to criticism, suffer from
depression
from the very early age. Depression is a serious disease and the reason for mood swings. It deprives a person from the state of well being.
Low Self Esteem
Kids, who are continuously scolded and insulted for the slightest of mistakes, develop a very
low self esteem
. It makes them feel unwanted and undeserving of love. It can also bring their self confidence level to a zero.
Aggression
Hollering at kids makes you waste your energy and cool and makes your child more aggressive. So
yelling
can have no perfect solution. Instead try to fix the problems by talking to your kids when they are calm.
Aloofness from Parents
If you continuously insult your kids in the hope that they will rectify themselves being ashamed of themselves, you are going to a wrong solution. It will only result in the kids maintaining a distance from their parents. They will prefer to remain aloof from their parents as far as possible, which is not at all a sign of a healthy relationship.
Insecurity
Kids always need an attachment with their closed ones. And there can be no one closer to them than their parents. They should always feel safe in the arms of their parents and when they are around their parents. But if the parents always complain and
criticize
them in front of others, the kids start to feel insecure even in front of their parents. It creates a wall of miscommunication between the children and their parents.
Develops Negative Concept about Themselves
Reprimanding your kids will develop negative thoughts in them. Your child will begin to think she is unworthy of anything and cannot make it up like others of his age. This is very dangerous. He will start maintaining distance from others and will start hiding herself from others.
Education Will Suffer
Insulting a kid creates a mental stress and
anxiety
for which she cannot concentrate on her studies. As a result her academics suffer. She cannot bring flying colours in her report card like her friends. Overall she is stressed and frustrated. For a kid, this frustration is too much and can make her take drastic action which may take a toll of her life.
Become Unsocial
Being frustrated and losing all hopes in life, kids start hiding themselves from the society thus becoming unsocial and keeping themselves at a distance from everyone. They begin to live a life of solitude.
Before you think of reprimanding your kids, try to figure out their problems and try to empathize with them. Make them feel comfortable in your presence. Only then they will come forward and share their problems with you without feeling scared of anything. This transparency is very important in any kind of relationship.
Why should parents never insult kids in front of others? How to avoid insulting kids? What are the effects of insulting kids in front of others? Discuss here.