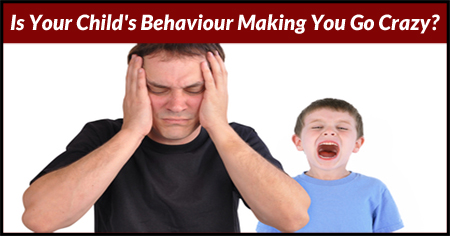 Is your child's behaviour making you go crazy? In such situations you must try to be patient to control her. Let us take a look at how you can handle your child when her behaviour is making you go crazy.
Are you are going crazy because of your child's behaviour? And not sure how to handle yourself under such circumstances? Do not worry! You are not alone in this world. This is something which is quite natural and every parent has to go through such phase while raising children. However, the point is how well you can differentiate yourself from other parents who get upset in an extreme way to spoil themselves and their children?There are several reasons why the children go crazy or behave in a way than what is expected from them. It is imperative to understand them so that you can calm yourself and act accordingly.
Why is the Importance of Being a Calm Parent?
A lot of parents believe that the only means they can serene their own anxiety is by getting their children to act the way they want them to. But will this approach work? In almost all cases, such an approach or thought process would not work. This is because doing so will subject the children to be under pressure and will make them think they are losing their freedom. So the moment you start to have power over your child, you as a parent will lose prospect of yourself and your child. Hence it is very
essential to be a calm parent
.
How to be a Calm Parent When Your Kid is Going Crazy?
As a responsible parent, one has to accept the fact that they are accountable for their child's future and how their
character
build up. So by being responsible, it does not mean that you should try to control your kid when he or she is not behaving as per your need or society's expectation. Remember the fact that nervousness breeds madness and calmness breeds peace.
Following are Some Ways to be a Calm Parent
Have a quick look at some ways to be a calm parent.
Set the Goal to Remain Calm
As you have goals set in your work life, have a goal set in your parenting life to be calm. Be sincere to meet your personal goals just as you would remain sincere to meet your work related goals. Think of how you cannot behave as an arrogant person with your boss, since that would cost your job, in a similar way do not try to get upset with your child as it would cost your child's future.
Be Right to Get Things Right
Concentrate on your own manners, before controlling your
kid's behaviour
. Accepting and thinking in this perspective would help handle your anxiety. This will in turn promote a good relationship with your child.
Apply Sense before Emotion
Whenever your child behaves mischievous, first try to apply some sense before getting emotional. Giving some time to think before being emotional would result into constructive atmosphere.
Accept What You Have
Remember that you are not running a circus to train a tiger to act as per your command. As a parent, you can assist your children to stretch to a certain extent but not break them. Despite the fact that you cannot alter your kid's traits, you can influence her in the direction of improved manners by serenely giving solicitous consequences and setting confines. So it is always good to accept what you have instead of subjecting yourself under pressure, to achieve what you wish to have.As soon as you change your mode of carrying out things and develop into a
calm parent
, you will budge your complete family coordination. If you discontinue seeing and worrying about what is erroneous with your child and instead you start concentrating on yourself, you are on your path to be a
great parent
.
What is the importance of being patient with children? How to handle children when they are misbehaving? What are the ways to become a better parent? Discuss here.