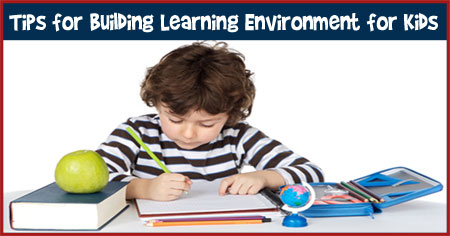 Building learning environment at home is essential to boost academic performance as well as brain development of kids. Read on to find tips for building learning environment for kids.
In the war between nature vs. Nurture; nurture often wins. As a parent your responsibility starts after the birth and it is now your job to make your kid grow up into a healthy and
intelligent
adult. It is not enough to tell your kids to be positive and interested in learning, it is your responsibility as a parent to build a positive learning environment at home for children. Here are some tips that will help you build a learning environment at home.
Instil a Passion for Learning
Your kids will not learn much if you spend most of your time on the sofa eating snacks and watching daily soaps. You can set a good example for your children by bringing home educational videos and taking family library trips together. A very good way of sharpening the thirst for hunger would be to read to your children every night from the time that they are very young. When kids are exposed to a wide base of knowledge at home they will find it easier to pick up things at school. Taking your kids to visit the museum, botanical gardens and other landmarks of history is also a very good idea.
Utilize Everyday Learning Opportunities
Everyday activities like visiting the grocery superstore or handling a crafts project can present valuable
learning
opportunities. For example, kids can learn to recognize labels, do price comparisons, count items and even add up the bill (read practice their
math
) when they are at the super store. Talk to your kids creatively even while doing everyday jobs. For example, explain how a potato grows while peeling potatoes or explain photosynthesis while watering plants. Young kids love picking up new things and if you start building strong bonds of learning communication from an early age you are sure to see results.
Encourage your Child to Play
Violent video games, passive TV programs and destructive mock weapons are all bad for the development of a child. Ban the entry of such objects into your home. While you probably cannot ban the T.V you can restrict its use. For encouraging healthy play and boosting the learning experience you need to bring in objects like building blocks, crayons and drawing books, plasticize moulds, crossword puzzles etc. these games boost the development of the tender minds of kids and encourages them to think in a more intelligent and creative way.
Participate in Physical Play Time
Physical play happens, when kids are moving around actively and engaging in activities like climbing, running, throwing, jumping etc. Toys, jump ropes and balls are suitable for physical play. Discovery Play like hide and seek, treasure hunt etc sharpen the natural curiosity of a child. Invest in a sand box or a little water table; these are powerful aides of discovery play. Role playing during physical games like mock football tournaments, mock ice skating lessons etc also boost the imagination of children apart from building up their physical prowess. As a parent your participation in these activities will encourage your children to learn and develop faster.
Plan the Meals Well
It is not possible to over stress the importance of providing well balanced meals to children during their growing up years. The first 3 years of your kids life is the phase when
brain development
is at its peak. Make sure that you serve antioxidant rich food that contains healthy doses of omega 3 fatty acids and complex carbohydrates. You can serve brightly coloured healthy snacks like blueberry puree, strawberry shake, tomato juice, walnuts etc to kids. Food like broccoli, yolk of eggs, black beans and yoghurt are also good food choices that boost
brain
development.
How to build learning environment for kids? Why is it necessary to build learning environment for kids? How does right learning environment aid in brain development of kids? Discuss here.