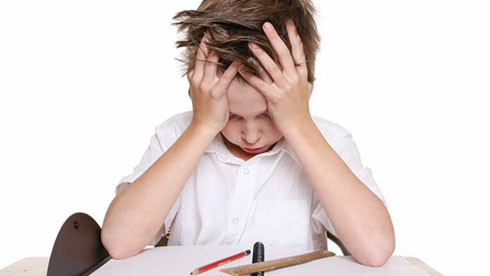 Learn about the top 10 simple ways that can help to improve your child's concentration.
In today's modern world of technology and gadgets the attention span of children is reducing day-by-day. In this scenario, you as parent have to play a crucial role. You can do a lot of things that can boost concentration and memory of your children. There is not rocket-science involved in this. By just doing some simple things, you can improve concentration of your children very easily. Here are few things that you can do.
Improving Concentration in Children
Let us take a look at few simple ways to improve concentration in your children.
1. Make Proper Seating Arrangement
Make proper seating arrangement so that your children can sit comfortably for longer period of time and concentrate well.
2. Reduce Distractions
Children get distracted very easily. So, when your children are studying you must keep them away from distractions. You should make a note of the things that distract your children easily. Nowadays, children are attracted to mobile phones very much. Make sure that you keep the mobiles phones away when your children are studying. You should also be particular about not using mobile phones when your children are studying. Put them on silent mode or use headphones.
3. Maintain a Schedule
Maintain a proper study timetable for your children. Having a fixed schedule for studying will motivate your children to study well. They can focus well when they are allotted with a particular time to study every day.
4. Take Care of Their Diet
Make sure that you take right care of your children's diet. Ensure that they are eating well and eating a well-balanced diet. Include foods that can help to boost their brain power. Such foods include foods like almonds, eggs, fatty fish etc. Encourage them to eat well before they start studying. Well-fed children can concentrate well on their studies.
5. Assist Them
Assist your children while they are studying. Your company will motivate them to study better. Do not put pressure on them. Make them feel comfortable and happy. Cheerfulness can boost their gusto to study hard and concentrate well on their studies.
6. Play Brain Power Boosting Games
Play games that can help to boost your
children's brain power
and concentration. You will be surprised to know that even simple games like jigsaw puzzles, crossword puzzles, UNO etc. can help to improve attention span and concentration. So, make sure that you paly such games with your children in your free time.
7. Encourage Outdoor Activities
Outdoor activities can help to improve blood circulation in the body of children. It can refresh their mind and help them concentrate well on studies.
8. Allow Some Entertainment Time
It is necessary to allow some time for children to entertain themselves. They can watch their favourite cartoon show or any other show of their choice.
Studying
all the time will make their brain overworked. So, it is necessary to allow some time to entertain them.
9. Encourage Them to Practice Relaxation
Relaxation techniques like meditation and deep breathing are very simple and yet can provide ample of benefits to them. So, you must definitely encourage your children to practice such relaxation techniques so that their concentration is boosted.
10. Reward Them
When you find that the
attention span
of your child has increased, you must reward them. Rewarding them can help to boost their self-esteem and confidence. It can motive them to study harder and do well in exams and tests.It is necessary to follow the above mentioned ways to help your children concentrate well. Try to increase the study time gradually to get best results. Follow the above mentioned 10 ways to the 'T' to mould your child into a sharp and an intelligent child.
How to help children concentrate well on studies? Why are children unable to concentrate on studies? What kind of foods should be included in their diet? Discuss here.