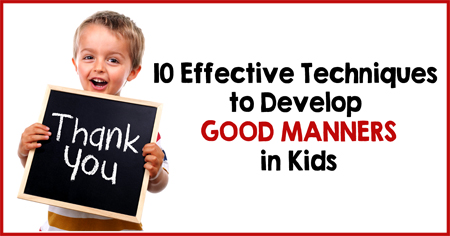 Encouraging good manners during early childhood is essential to help kids imbibe such manners easily. Follow these 10 effective techniques to develop good manners in kids.

Learning good manners right from childhood days will help a child to grow up into a responsible adult. When parents take initiative to teach
good manners
to their kids from early stage, they will be happy and proud to see their kids grow up as well mannered persons. Children learn good manners at school and home both but as we all know 'Charity begins at home'. Find below the 10 effective techniques to develop good manners in kids:
1. Be a Role Model
Children get influenced very easily by whatever is happening around them. So, it is very important that parents behave in the right manner in front of their kids. If parents wish that their kids should be generous and truthful they should set example before their children.
2. No Abusive Language
Parents must themselves avoid using abusive languages especially in front of their kids. It will teach their children not to do the same. Even if the parents find that their kids are using abusive language they must immediately take action. They should find time to speak to their kids and ask them to
apologize
for the behaviour and instruct them not to do the same.
3. Avoid Yelling and Screaming
Parents have all rights to scold their kids for their
bad manners
but they should not scold them for all their bad manners in a go. Kids are not capable of taking it all together. Parents may talk to their children immediately when they are behaving wrongly.
4. Teaching Table Manners
Right from the early age, kids must be taught
table manners
. Parents must teach them how to keep napkin, hold spoon and fork, not to make noise while eating and not to talk while chewing food. Slowly they must be taught to set the table too.
5. Teaching Sensibility
Parents must teach their children to be sensitive enough. This is an important quality and children should learn it at a very early state. They must learn to respect their elders, care for others, and learn sharing.
6. Important 5 Words
Parents must teach five very important words to their children. These are "Please", "Thank You", "Sorry", "Excuse Me", and "May I". The earlier they learn importance of these words and their importance it is better for them so that they turn out to be good mannered individuals.
7. Encourage Practice
Parents cannot expect their children to suddenly start behaving very nicely in front of others. Unless and until children behave nicely at home, they cannot do the same in front of others. It will certainly take time for the children to grasp the good manners and parents must keep patience to help their children grasp
good behaviour
by practicing them at home.
8. Reward Them
Parents must reward their kid when they behave nicely. Generally parents react fast when they find their children behaving badly but children deserve rewards when they behave nicely. This will create a positive attitude in the children.
9. Teach Them to Wait for the Turn
Many children are not in a habit of waiting for their turn. Parents should teach their children to learn how to wait for their turn. Children should learn that everyone gets chance to talk. For this it is important that parents also do not interrupt their children when they are talking.
10. Be a Coach
Parents can be the best coach for their children. They must help their kids in having goals in their life. The parents can teach their children various ways to achieve the goals. Parents are the best persons to motivate and encourage their children.
Parent must not expect that their child would learn good manners overnight. Patience and continuous effort from parents' side would help children learn good manners.
Which good manners should be cultivated in kids during early childhood? How to help kids imbibe good manners? What to do if kids lack good manners? Discuss here.