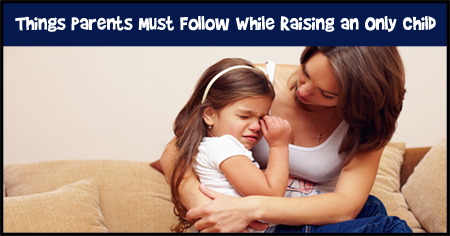 Parents often fear that they would not be able to inculcated values like sharing, caring and being responsible in their only child. Let us take a look at some tips for raising an only child.

Raising an only child is not an easy task; it is a challenging task – though it is rewarding. You may be afraid if your only child gets spoiled and selfish while growing up all alone; you may worry if your child really needs a sibling; you may worry how to raise an only child. But instead of worrying for these challenges, enjoy this unique parenthood. Here are some tips which you can follow while raising your
only child
.
Make Sure Your Child Has Enough Friends

Remember your child does not have
siblings
to play with, to talk with, to cry with, to laugh with, to fight with, to love with, to eat with, etc. So you have to make your child develop his or her social skills. What can you do then? You must make your child be a part of a playgroup. Arrange play dates for him or her. Get him or her involved in after-school activities when he or she gets older. You yourself should focus on your child's
social skills
.
Teach Your Child to Be Responsible and Independent

It is very easy to pamper your only child as he or she means the world to you and you want to keep him or her happy without giving any responsibility of doing chores or any other task to complete. But you should not be doing this; you must give him or her age-appropriate tasks to complete.
Also, if you keep doing all the things for your kid, he or she will take your for granted and will be dependent on you.Allow your child to learn doing things by himself or herself. Your only child should know how to be responsible and how to be independent as it will help him or her forever.
You Have to Set Boundaries

As your only child does not have anyone else of his or her same age in your house, your child may tend to be
bossy
. So you surely have to set boundaries for your kid. Let him or her know that what are the actions that can be tolerated and what the complete no-no means. It means that he or she would be punished if he or she breaks the boundaries, so he or she should be aware of the consequences beforehand. Also, boundaries make your only child feel responsible, so it is great indeed to have boundaries and raising your only child following rules.
You Should Not Spoil Your Kid

Your only child maybe the apple of your eye, but does that mean you will not leave any stones unturned to keep your kid happy. This not only makes your kid dependent, but also demanding. He or she can demand for anything he or she likes – but is it your responsibility to get him or her everything or anything he or she wants. So it is very important to avoid overindulgence with your only child. This does not mean you will not buy anything your kid asks for, but in reality, you are just avoiding to be overboard and spoil your only kid.
Do Not Be Critical

Your only child needs to know what mistakes are tolerable and what are not. You need to handle
discipline
carefully when it comes to raising an only child. Mistakes may happen, and you have to accept his or her mistake when done unintentionally. Use discipline from time to time, make it strong and constructive, inject it well in your child, and overall, avoid criticism. As your only child has no one else to motivate him or her, it is only you who can do that, and if you become too much critical, you may end up discouraging him or her – so be careful!
Teach your child how to be considerate of others, how to share, how to compromise, etc. As your child will not be learning these from siblings, you have to play the lead role behind teaching him or her life lessons. Gradually, you would enjoy raising an only child and make him or her feel independent, responsible, and confident human being.

Do only children grow-up into spoiled individuals? Is it necessary for children to have siblings? How can parents inculcate right values in an only child? Discuss here.