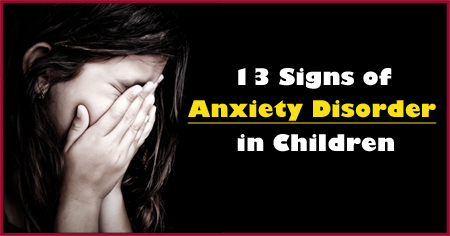 Anxiety disorder can have many harmful effects on the growth and development of children. Therefore, it is necessary to identify the signs of such disorder so that it can be treated at the earliest. Read on to learn about the 13 common signs of anxiety disorder in children.

They say childhood is the golden period of life. It is the time when a person does not have many important responsibilities to take care of. Even though a healthy and a
happy child
trips on rosy wings during his or her childhood, some kids may suffer anxiety disorder. It is not uncommon but treatable and can be kept under control. Let us take a look at the 13 signs of
anxiety disorder
in children.
1. Irritation

It is normal for a child to have mood swings but a child suffering from anxiety disorder will show heightened signs of irritation which commonly leads to depression.
2. Sleep Deprivation
An adequate amount of sleep is very important for kids as they tend to spend more energy during their childhood. However, due to
anxiety
disorder, children often have difficulty sleeping. Some of them may also have
nightmares
.
3. Problems Concentrating
Children may also have trouble concentrating in studies or any other activities because of anxiety disorder because they tend to lose interest easily.
4. Bad Grades
Lack of attention and interest in academics may also lead to
bad grades
. It is not uncommon in children suffering from anxiety disorder to not want to do their homework. Sometimes they also might fail to complete their class work on time.
5. Refusal to Go to School
Children with this disorder will often find excuses or make up reasons to not go to school. Sometimes they might also throw a fit if forced. This is because of their lack of interest in school activities and also poor performance which in turn may also heighten their levels of anxiety.
6. Feeling Detached From Peers
This is one of the common signs noticed in children suffering from anxiety disorder. They will often feel detached and withdrawn to themselves refusing to interact or play with their friends.
7. Mood Swings
It is natural for a child to have mood swings. But a child suffering from this order will have mood swings more often. They will cry more, throw more tantrums and be unsatisfied with everything.
8. Eating Habits Change
Anxiety disorder will also cause appetite loss in children. They will either eat less or completely refuse to eat at all. Feeding such children can be a hassle but everything can be brought under control with proper care and treatment and hence should not be ignored.
9. Energy Loss
Because of their lack in appetite their energy levels will decrease. They will feel all the more lethargic.
10. Anger
Heightened levels of irritation will commonly lead to anger. Every little thing will make them annoyed and angry.
11. Self-Esteem is Lowered

Children with anxiety disorder will also have low self-esteem. They are often self-critical and judgmental about themselves thinking that their friends or people around them are better.
12. Lack of Interest in Activities

Low self-esteem and loss of energy is caused by anxiety disorder often leads to lack of interest in kids. This is why they feel withdrawn and also results in poor performance in school.
13. Suicidal Tendencies

This is however one of the rarest and the most extreme signs that a child with anxiety disorder may exhibit. Often bullying, criticism and also improper family environment can enable a child to become suicidal. Even harboring suicidal thoughts can lead to fatal conditions. If your child exhibits suicidal tendencies get him or her treated immediately.
No matter how minor you may think the signs are, they can always get worse.
Children coping with anxiety disorder may not show all or some of the above mentioned signs and symptoms. Therefore, it is necessary to get the child examined by an expert for right diagnosis of this disorder if such signs are observed.
It is common for parents to consider such behaviour as a passing phase but it can lead to serious mental problems later on. If you notice such signs of anxiety disorder in your children, definitely do not ignore them. Provide them with proper facilities and care to overcome such problems.
What are the causes of anxiety disorder in children? Which are the early signs of anxiety disorder in children? How to prevent anxiety disorder in children? Discuss here.