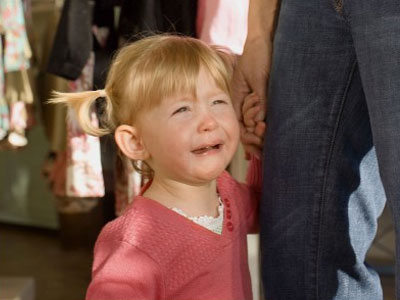 Separation anxiety is common in toddlers. However, with the passage of time they outgrow it. Read on to find tips for dealing with separation anxiety in toddlers.

Does your toddler who is barely eight months old throw tantrums each time you are out of his sight for a few minutes? Does your baby get anxious even when you go to the bathroom? Are you aware that these are all signs of separation anxiety which usually hits small children when they are around 7- 8 months of age?

Understanding Separation Anxiety
At 7-8 months of age, the child is able to understand that the parent can leave her alone and go away. However, what she does not realise is the fact that her parent will definitely come back. A feeling of abandonment makes most children of this age suffer from separation anxiety.
Separation anxiety can last for a few weeks or months depending upon when your child is able to gain confidence. The fear associated with being away from parents can cause a child to become anxious without any prior indication. This can pose challenges for the parents who will need to handle the situation maturely and skilfully.

Dealing with Separation Anxiety in Toddlers
Let us have a look at how you can deal with separation anxiety in children.
Early Training
Once your baby is 6 months old, start leaving her for short period of time with caregivers like a babysitter, relative or a friend. It is essential that the child is used to being away from parents before she starts school. When left with others she will slowly, over a period of time get confident about staying alone and not get anxious each time her parent is not around.
Saying Goodbye
While leaving your house and infant in the care of others say a quick goodbye to your baby. Do not let her tears and tantrums hold you back. Never make the mistake of coming back to check on your child immediately after you leave. This will only make her cry more and harder so as to make you reappear again.
Another trick which many parents use is to rush off when the child is not looking. This is completely wrong. This will reduce the amount of trust a child has in her parents. Hence, do make it a point to bid farewell to your child. Children get distracted easily. When you are about to leave encourage your baby and caregiver to engage is some interesting activity which fascinates the child to keep her distracted.
Tell Your Child When you Will Return
Always tell your child when you will be back. A small child will never understand in terms of hours. Hence, you may have to refer to things like after lunch, after a nap or in the evening. Most importantly keep your promise and return at the appointed time. It always helps to reassure a child that the parent will come back.
Some children start having separation anxiety from the time they are 7-10 months old. Such children get over their anxiety before they start school. In others separation anxiety starts when they are between 12 and 24 months old. Children at this age fully understand that the parents will come back. However, they try to cling to the parents and throw tantrums when faced with the prospect of being separated from them. Parents must not give in to the tears of the little one. The child must be taught slowly and made to understand that it may not always be possible for her parents to be around her all the time.


At what age do children cope with separation anxiety? What are the causes of separation anxiety in toddlers? How can parents deal with separation anxiety in toddlers? Discuss here.