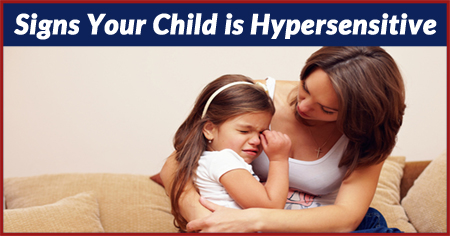 Parents need to pay right attention and take right care of hypersensitive children. Early intervention and right management of hypersensitivity is a must. Do you think your child is hypersensitive? Read on to learn about the signs that a child is hypersensitive.

Hypersensitivity is a phase of surplus actions that are established by signs like anxiety, jitteriness, jiggling or unwarranted movements. These activities are frequently accompanied with loss of focus or concentration, excessive talking, or uncontrollable conversations or arguments. Hypersensitive children come to this world with enhanced knowledge and
capabilities
. But like other kids, their life too needs to be shaped right from childhood. Therefore, early intervention and right management of hypersensitivity can help to secure their future.
A highly sensitive child is born with a nervous system that is exceptionally attentive. They rapidly respond to many things that they come across in their life. This condition is not an illness or disease, whereas it serves to be a great mannerism. Unfortunately, this trait is not much appreciated and thus misunderstood in our society and as such parents approach psychologists immediately to give them special treatment.
Common Traits of Hypersensitive Children

Below mentioned are some of the common signs of highly
sensitive children
.
1. Emotionally Oversensitive

In any kind of situation, a hypersensitive child reacts more which cannot be seen all times from a normal child. For example, they show more interest and sympathy when their friends face some problems or even worry for a public concern thinking about the negative impacts on them.
2. Avoid Group Events or Sports

A hypersensitive child always plans to avoid group events or sports as they always expect to be alone. It is because, they are conscious that everyone or someone is watching their activities. Few sports preferred by such children are running, bicycling and hiking. But, there are some children who understand and get the guidance from their parents to move with this supportive environment.
3. Take Longer Time for Decision Making

Highly sensitive children are concerned of refinements and controversies resulted with immediate decision making. Either the decision is "yes" or "no", they take a stretching period to decide on something. For example, selecting an ice cream becomes a big task for them and they tend to they tend to take longer time just for selection. But once the decision is made, they will always be quick with the same selection in future.
4. Regret for Longer Time

When highly sensitive children take a wrong decision and face the negative impact from it, they go very upset as their emotional reactions are high. Overcoming the guilt of taking a wrong decision is very difficult for them.
5. Extremely Detail Oriented

Children with hypersensitivity are good at finding certain things and noticing the things in detail. For example, in a meeting room, a silly change will be easily identified by them. Hence, they are detail oriented people.
6. Little Introvert by Nature

There are a few introverts among many highly sensitive children. Often, they feel shy or are reserved in many scenarios where there is a small crowd or people around them. But, the possibility of being an introvert is not very high.
7. Prone to Nervousness and Downheartedness

When undergoing a bad experiences or feeling unsecure at any instance, hypersensitive children feel extremely nervous and sad. At this point of time, parents must realize the fact and support them as they truly need it in most cases. Handling such a kid is very important and hence, boosting their confidence level is mandatory.
8. Cry and Shed Tears Easily

Children with high sensitivity must not be exposed to embarrassing situation or miserable feelings as they easily cry. This is why they are considered to be caring and are well-mannered. Family members should support them in all uncomfortable circumstances.
9. Get Irritated Quickly

Hypersensitive children give an odd reaction when they hear annoying sounds or someone shouting. They also get irritated quickly if someone is doing something annoying.
10. Avoiding Violent or Horror Movies

As hypersensitive children are highly responsiveness and get over stimulated easily, violent or horror
movies
are not liked by most of them.
All the signs and symptoms of hypersensitive children are not negative. Such children need extra care and love from their parents. So, it is advisable to treat them with special attention. If required, help from professionals can also be taken.

What is hypersensitivity? How to deal with hypersensitive children? What are the common characteristics of hypersensitive children? Discuss here.