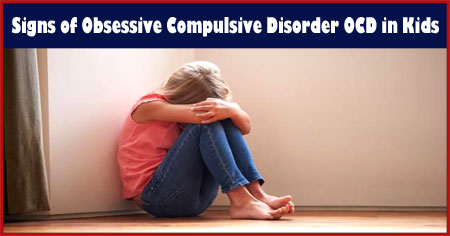 Right action must be taken by parents if any unusual behaviour is observed in children. Let us take a look at some signs of obsessive compulsive disorder (OCD) in kids.

Obsessive Compulsive Disorder (OCD) is an anxiety disorder, which keeps you preoccupied making you think that something harmful, dirty, wrong, or dangerous can happen, which leads you to become obsessed in doing certain things repeatedly. Experts believe that OCD is related to blocking of a certain chemical called serotonin that sends signals to the brain, which causes fear and doubt. Most kids with OCD get stressed and worried most of the times and this could be treated by behavioural therapy and medication. Here are few signs of OCD in kids that you should never overlook.
Signs of OCD in Kids at Home

Kids can have a combination of the following signs at home: they may have repeated obsession unpleasant thoughts of falling ill and thus stay scared all the time; they may do repeated actions like washing hands to avoid contamination of germs because of a feared consequence that dirt can make them fall ill; they may be obsessed with excessive cleaning and tidying; they may lose their mind if you ask them to finish a task and move on to the next as they like to be obsessed with the same ritual for a longer time, etc.
Signs of OCD in Kids at School

Kids with OCD will face extreme difficulty in concentrating in studies and various
school
activities. As they are always obsessed with some thoughts, it would be tough for them to pay attention of what the teacher is saying in the class. Finishing homework or classwork in appropriate time can be very difficult for such kids as they tend to take a very long time to finish a single task. Also, there can be fights or arguments with other kids resulting from misunderstanding due to heavy obsession of kids with OCD.
Signs of OCD in Kids and Their Behaviours

You can easily find a kid with OCD always stressed. They can hardly enjoy their lives, as they are too busy in completing several tasks repeatedly taking a very long time. Most of the kids feel shy and embarrassed due to their obsessive-compulsiveness which is usually reflected on their behaviour. They try to hide their secrets, and are usually irritated and sad. They will have difficulty explaining their
unusual behaviours
, and will always suffer from a low self-esteem and from shame and embarrassment.
More Signs of Obsessions in Kids with OCD

Kids may have irrational
fears
of car crash or stabbing themselves with any sharp object, so they tend to be extra careful. They need to arrange their surrounding in certain symmetry. They do not believe easily on anyone and are usually doubtful, and so they can ask you few questions repeatedly to confirm if you are true. They like to repeat rituals for a fixed set of numbers that they consider lucky. They are preoccupied with religious thoughts. Teens can be obsessed with sexual thoughts.
More Signs of Compulsions in Kids with OCD

Kids with OCD are not only obsessive, but they are compulsive also. Many of them will keep washing their hands till their hands have turned red and chapped; many of them will count steps while walking; many of them repeat doing things to make sure they have done it correctly; many will brush their teeth till their gums bleed; many will keep themselves busy with protective prayers or chants; many of them will hum intrusive words or sounds, etc.
If you notice chapped hands in your kids due to washing, a sudden
drop in test grades
, find your kid staying awake till late night doing homework every time, a persistent fear of accident or illness in them, high use of tissue paper or soap, exceptional amount of laundry frequently, etc., then you should have a talk with your kids or you can take help of an expert who can suggest right behavioural therapy and medication for your kid.

What is obsessive compulsive disorder or OCD? Which are the common signs of obsessive compulsive disorder or OCD in kids? How is obsessive compulsive disorder or OCD in children treated? Discuss here.